How young Chinese are coming out to their parents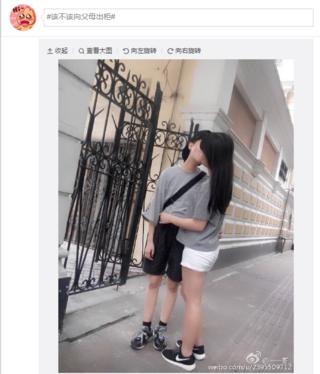 How millions in China are now talking about gay marriage.
The effects of the US Supreme Court decision to legalise same-sex marriage across the country continue to ripple across the world, and a popular television programme kicked off a huge online discussion in China. More than 8,000 comments were posted on a thread on China's Twitter-like Weibo platform after current affairs discussion programme "Let's Talk" tackled the subject of coming out as gay to your parents. On the thread, many young Chinese were talking about how they revealed their sexuality.
"I remember when I first told my dad that I kissed a girl, he was silent for about three minutes," said user Su Ruo Coco. "He then asked what kind of person she was, and when I'd started liking her... I feel eternally lucky."
"If my son or my daughter was gay, as long as their partner treated them well, I would accept it, after all, life is very difficult. Who are we to let rules and regulations limit how we live?" said user Yong_Hiru.
But others told stories of experience with less tolerant families. "This has been an extremely difficult problem for me, because my family absolutely cannot accept it," says Yi Yi Ge. "I never wanted to break my parents' hearts."
The discussion was open, frank and drew in millions of people. That's not always the case with online discussions about social issues in China - several prominent online feminists in China were recently arrested and then released, as part of an ongoing crackdown on civil society groups, and new laws seem to have had a chilling effect on discussions about political scandal.
But this subject seems not to be taboo. Last month a post on a Weibo page for fans of Chinese President Xi Jinping asked users what they thought of the US Supreme court ruling, and the results (while unscientific) came out overwhelmingly in favour of the ruling. People's Daily, an official Communist Party paper and one of China's biggest publications, has been running stories on gay issues, such as this interview with an elderly gay man.
Homosexuality was legalised in China in 1997, and although conservative attitudes remain, there are indications that younger Chinese in particular are more open to the idea of same-sex relationships. The "Let's Talk" programme was broadcast over the weekend on a free-to-air TV service and provincial channels and more than 12 million people read the "Let's Talk" conversation which was happening on Weibo, where many users were sharing selfies or pictures of their same-sex partners.
The US court ruling has prompted discussion about homosexuality around the world - and as BBC Trending reported previously, reaction was mixed, with a wave of opposition in some countries, and protests in Kenya in advance of President Obama's visit there later this month.
Reporting by Kerry Allen, BBC Monitoring
Blog by Mike Wendling
Next story: How videos of supermarket raids show what life is like in Venezuela
Every week at least one video showing people looting either a supermarket or a lorry full of food is shared online by Venezuelans. Some of them get thousands views of and some just a few hundred, but they are highlighting food shortages in the country. READ MORE
You can follow BBC Trending on Twitter @BBCtrending, and find us on Facebook. All our stories are at bbc.com/trending.