What happened when two men walked through Moscow... holding hands?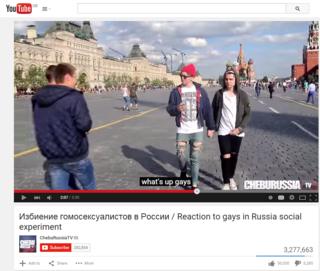 The latest "social experiment" video to take off globally shows an apparently gay couple holding hands in downtown Moscow - and receiving harsh homophobic abuse.
The two young men stride hand-in-hand past some of Moscow's best-known landmarks. But it's far from a relaxed stroll - instead they are bombarded with a string of insults, culminating in a confrontation with very aggressive men who appear ready to beat them up.
International gay rights campaigners have frequently used the internet to oppose Russian policies, including during last year's Sochi Winter Olympics. But this wasn't a campaigning video: rather it was made by popular Russian YouTube pranksters. The video by ChebuRussiaTV has been watched more than 3 million times since it was posted on Monday.
"I was shocked by the reactions... They were just crazy. Every five minutes we would get a bad reaction," Nikita Rozhdesev, one of the filmmakers behind the video, tells BBC Trending. "We didn't know that so many people would watch it, but we knew that our subscribers would be interested in this topic."
Rozhdesev says the group filmed for about two to three hours and stuck to tourist areas in the centre of the city. The couple (two actors who in real life are neither a couple nor gay) can be seen walking through Red Square at several points. He says that although they were fearful when they were confronted by strangers, they were concerned that if they went into more conservative neighbourhoods, the abuse they faced would have been much worse.
The video prompted a huge debate online, much of it in Russian. More than 20,000 people commented on the YouTube video, and the chatter spilled over onto other social networks. "Great video!!!))) I recommend," one Moscow-based Twitter user comments, while another Russian user says: "Russia is a fascist country".
But others vehemently disagreed, both with the premise of the film as well as the idea of gay rights: "Gays aren't the problem, but the fact that such video clips are filmed. There is no homophobia issue in Russia. There is a problem of gay propaganda," says user Arseniy Dmitriyev. "Russia will be the only normal country where a child will have a father and a mother instead of 'parent 1' and 'parent 2' as in the rest of this crazy world," another YouTube user comments.
ChebuRussiaTV is a Moscow-based YouTube prank channel. It was started by a group of five friends, and their previous videos involved things like smearing Nutella on unsuspecting strangers in a bathroom and guides to picking up women - although, to be fair, the group hasn't shied away from more serious social issues in its "social experiments," such as canvassing the opinion of Russians on Ukraine and looking at the plight of veterans in Russia and the US.
Most of the group's videos are in Russian only, although the same-sex social experiment included English subtitles, which Rozhdesev says were added after the filmmakers realised how big the viewer numbers were getting. In addition to Russia the video was on YouTube's globally most-watched list and also in the top 10 in a number of Western countries including the US, France and Australia.
There's been an international debate about gay rights in Russia. But Rozhdesev denies the group chose the subject simply for its global viral potential. "We won't do a social topic just to get clicks," he says. "We have an idea, and if we feel passionate about it, we do it."
The group supports gay rights. "It's bad that in Russia people react like this," Rozhdesev says.
Homophobic abuse on the streets, as revealed by "social experiments," is not just a Russian phenomenon. A similar stunt, with broadly similar results, was carried out by a YouTube prankster in New York last year. And a hand-holding experiment by two male BBC reporters on the streets of the English city of Luton earlier this year also provoked insults - although neither shows the level of violence revealed in the Russian film.
Reporting by Olga Bugorkova, BBC Monitoring
Blog by Mike Wendling
Next story: What did Iranians think of the nuclear deal?
As news spread of a nuclear deal between Iran and world powers, there's been a huge reaction online. But what do Iranians think of the deal? READ MORE
You can follow BBC Trending on Twitter @BBCtrending, and find us on Facebook. All our stories are at bbc.com/trending.