Japanese comics that are too racy for Chinese censors... but still popular online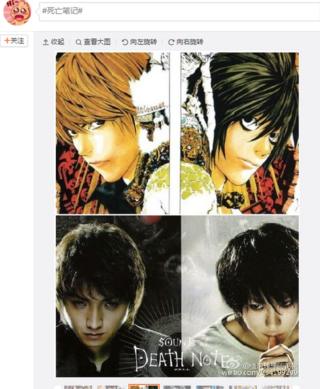 A Japanese comic is one of the biggest topics on social media in China - despite a government ban on the series.
The series Death Note follows the story of a young student named Light Yagami who discovers a notebook with a sinister power. If a name is written on the pages of this notebook, that person will die.
The series started as a weekly magazine serial in Japan but has since spawned books, films and video games. It's been popular - selling around 30 million copies worldwide. But with this popularity comes controversy.
Death Note was one of 38 Japanese comics banned by Chinese censors. Despite the ban, the comic has consistently trended on Sina Weibo - China's microblogging site. Determined fans are using social media to find ways around the rules.
Posts containing the hashtag #DeathNote have been read more than 100 million times on Weibo, as hundreds of thousands engage in the conversation.
"The film version of Death Note really is superb," said one typical comment, while other users were sharing links to Death Note comics and tips on how to get around the censors.
"Holy cow, the only fun we have is being denied," said one user, while another decried popular Chinese comics, many of which are aimed at young children: "Do you expect us 20-30 year olds to watch a cartoon for a 2-year-old?"
In April, China announced that there would be a crackdown on "violent" or "pornographic" content, and also required sites that stream foreign TV programmes and movies to obtain a licence. The specific titles were outlawed last month. A Ministry of Culture official Liu Qiang told China's official Xinhua news agency that the ban would "protect the healthy development of youth."
Jonathan Clements, the author of Anime: A History, says the large amount of online chatter isn't surprising. "Chinese authorities are used to a certain degree of permeability in their various bans and directives," he told BBC Trending radio. "The issue with a lot of Chinese censorship isn't about a blanket ban that keeps 100% of material out. It's about making life as difficult as possible for people who actually want it. A ban like this is about restricting casual access."
Death Note contains several themes, Clements says, that likely raised red flags for censors including crime, superstition and the occult.
"It's a teenage power trip, it's got a bad boy aesthetic and plays to the sense of entitlement of disenfranchised teenagers," he says. "Japanese animation for the last 30 years has excelled in selling to a niche not served by Disney - late teens and adult animation."
---
BBC Trending Radio
Hear more about this story on the BBC World Service - you can stream our radio programme or download our podcast.
---
Chinese authorities have been at loggerheads with Japanese media for about a decade. In 2004, a survey found that most of the top cartoon programmes on Chinese TV came from Japan. Jonathan Clements says soft comic power has gone some way in building bridges between two countries that have traditionally been rivals.
"You can talk to a bunch of young Chinese people, and there will always be someone who mentions Japanese shows. They don't come through legal channels, however there is a general interest in this material, and it encourages a certain amount of underground respect for the Japanese," he says.
Reporting by Kerry Allen, BBC Monitoring, and Barney Rowntree, BBC Trending.
Blog by Mike Wendling
Next story: Who's parodying Mark Ronson to make a point about unemployment?
A parody of Mark Ronson's hit song "Uptown Funk" has become a YouTube hit in Jordan. READ MORE
You can follow BBC Trending on Twitter @BBCtrending, and find us on Facebook. All our stories are at bbc.com/trending.