Why are some jokes being hidden on Twitter?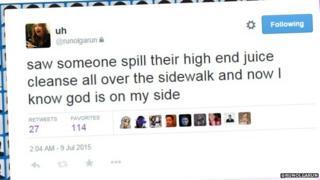 Joke thieves beware. Twitter has removed several humorous tweets that appear to plagiarise other people's work, on copyright grounds.
Comedians have long been frustrated at hearing their jokes retold, without attribution. But now Twitter appears to be offering them a way of fighting back - and claiming their words as their own.
The joke that brought the issue into focus went like this: "Saw someone spill their high end juice cleanse all over the sidewalk and now I know god is on my side," It was written by Olga Lexell, a freelance writer in Los Angeles. For those not accustomed to the diet of metropolitan hipsters, it's a dig at health fanatics who pay small fortunes for detox drinks.
Lexell tweeted the joke in early July. In the days that followed it appeared many more times on Twitter, simply copied and pasted by other accounts with no accreditation. But those duplicate tweets have since been hidden by Twitter - replaced with the message "This tweet has been withheld in response to a report from the copyright holder". The notification was first spotted by the Twitter account @PlagiarismBad, which exists to flag up plagiarism on Twitter, and even adds offenders to a public list list it calls "Tweet Thieves".
The move is likely to be lauded by writers and comedians who depend on their originality to make a living, and use their Twitter accounts to create distinct personas online. Olga Levell later tweeted an image which read "I simply explained to Twitter that as a freelance writer I make my living writing jokes (and I use some of my tweets to test out jokes in my other writing). I then explained that as such, the jokes are my intellectual property, and that the users in question did not have my permission to repost them without giving me credit."
Some on Twitter were alarmed by the news, arguing that the rule will be difficult to enforce fairly. It isn't yet clear if jokes copied from other websites and posted to Twitter for the first time will be handled in the same way, for example. BBC Trending has contacted Twitter for clarification of the rules, but not yet received a response.
Anyone can file a copyright complaint to Twitter using a simple web form, and the network regularly removes content for that reason. Requests usually concern photos and videos and it is more rare for text to be the subject of complaints.
Blog by Sam Judah
Next story: Japanese comics that are too racy for Chinese censors... but still popular online
A Japanese comic is one of the biggest topics on Chinese social media - despite a government ban. READ MORE
You can follow BBC Trending on Twitter @BBCtrending, and find us on Facebook. All our stories are at bbc.com/trending.