'Nazis secretly eat falafel': German town's pro-refugee posters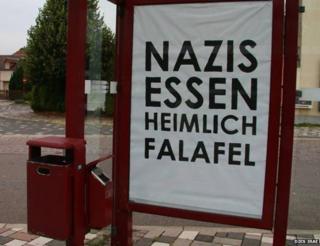 In response to a wave of recent anti-refugee protests across Germany, a political activist placed pro-refugee posters at bus stops in the small town of Freital, sparking a debate online.
The messages were a mixture of serious and tongue-in-cheek, written in both English and German: "Refugees welcome", "Nobody is illegal" and "Nazis secretly eat falafel". They were posted by an anti-racist campaigner who runs a Facebook page called Dies Irae, which translates as Day of Wrath.
The words were intended as messages of support for the refugees who have been housed in the area, which witnessed high-profile demonstrations by far-right groups earlier this month. That was part of the reason it was selected by the activist, who does not live in the town. "Nobody would notice if you posted these in [a big city like] Dresden," he tells BBC Trending, "but if you take action in a small town like Freital, they get attention." He declined to give his name, saying he feared reprisals from far-right groups.
The posters themselves, hung last week, lasted less than a day before being removed, but the images have garnered much more attention online. Collectively they have been liked and shared more than 80,000 times on Facebook, and spawned a debate about the stunt.
"But illegal immigration is a crime," wrote one, in response to one of the posters. Others called the campaign "stupid", motivated by the activist's sense of superiority. And others took issue with the image of a refugee family, claiming the majority of new residents were men under 25.
But most posts appeared to be supportive. "Very good," and "We should make T-shirts out of these [designs]," read two comments.
The activist behind Dies Irae describes himself as an "adbuster". "I'm trying to reclaim the streets by putting useful posters in the public sphere - that's what it's for. It's not for big corporations to sell us products that we don't need," he says. He and fellow activists have routinely defaced adverts in other parts of Germany - usually in an attempt to satirise consumer culture.
Freital has seen increasingly heated anti-refugee demonstrations and outbreaks of violence in recent months, since it was announced that 280 refugees would be housed in a former hotel in the town.
Blog by Sam Judah
Next story: 'You stink': The fight to get rubbish off Beirut's streets
The stench rising from rubbish piled up on the streets of Beirut has become so bad that an online campaign telling the government "You Stink" is now trending online. READ MORE
You can follow BBC Trending on Twitter @BBCtrending, and find us on Facebook. All our stories are at bbc.com/trending.