The luxury watches that have caused international outcry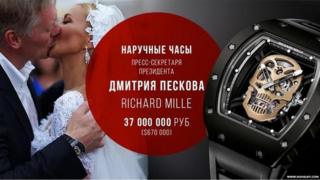 A scandal involving a Russian official, and his watch, is just the latest in a string of stories about public figures being quizzed over their costly timepieces - by eagle eyed social media users.
The stories always begin the same way: a seemingly innocuous photograph of an official at a public event is shared online. But savvy web users ignore the event in question, and focus instead on what they are wearing on their wrist. Time and again, they appear to be wearing watches costing many times their annual salary, and accusations of corruption soon flare up online.
1. Dimitry Peskov, spokesman to Vladimir Putin
Over the weekend, a very high profile wedding celebrating the union of Russian President Vladimir Putin's spokesman, Dimitry Peskov, and former Olympic champion figure skater Tatyana Navka, took place at a luxurious hotel in Sochi. But it wasn't just the wedding itself or the VIP guest-list that caught the attention of Russians online, it was Peskov's watch.
A photograph of him wearing what appears to be an 18-carat gold Richard Mille watch, worth almost £400,000, raised eyebrows across the internet. The amount "far exceeds" his earnings as a civil servant according to a blog post by opposition activist Alexey Navalny.
"How can the President's spokesperson afford to buy watches valued at four times their annual salary?" asked Navalny in his blog post.
Peskov says it was a wedding present from his wife. But others pointed out a picture on his daughter's Instagram account that they said showed him wearing the same watch several months ago (BBC Trending has not seen this picture). The allegations prompted a mixture of anger and humour online.
2. Nigeria's first lady Aisha Buhari
Last month President Muhammadu Buhari's wife, Aisha, received a similar wave of criticism when a photo of their inauguration ceremony emerged. She appeared to be wearing a Cartier Baignoire Folle 18-carat white gold diamond timepiece that was estimated to cost more than £30,000.
Many demanded to know how the wife of a president, who had made much of his humble upbringing and "man of the people" image, had bought the watch. But others came to her defence, saying she was a successful business woman in her own right, and could have bought the watch herself.
3. Abu-bakr Al-Baghdadi, leader of the so-called Islamic State
Al-Baghdadi was put under the spotlight after he was spotted wearing an expensive watch last year. He was pictured dressed in a long black robe and matching headdress during an unexpected visit to a mosque in the Iraqi city of Mosul, with what appeared to be a Rolex or Omega Seamaster on his wrist.
Twitter users published a swathe of comments accusing the IS leader of hypocrisy.
4. Yang Dacai, a Chinese government official
In the summer of 2012, Decai was pictured smiling at the scene of a bus crash in Shaanxi Province. Annoyed by his cheerful demeanour at the scene of a tragedy, people on the popular Sina Weibo network began trawling through other images of the official, and in picture after picture they noticed he was wearing what appeared to be a string of luxury watches.
Collectively they were believed to be worth many thousands of pounds, and people demanded to know how he could afford them on his modest salary. The outcry began what became an unravelling of Decai's political career, leading to a more serious allegations of corruption, and eventually a jail sentence for the official.
Blog by Mai Noman
Additional reporting by Maria Grechaninova and Famil Ismailov
Next story: 'Migrant' hoax: The selfies that fooled the internet
An Instagram account appearing to show a migrant documenting his journey to Europe is actually a fake. READ MORE
You can follow BBC Trending on Twitter @BBCtrending, and find us on Facebook. All our stories are at bbc.com/trending.