What slogan is being promoted by Thailand's leaders?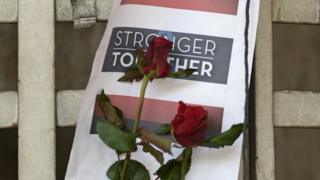 As police hunt for a man suspected of planting a bomb that killed at least 20 people in Bangkok, Thais are calling for unity online with the slogan "Stronger Together" - a message promoted by the country's prime minister.
The hashtag was first mentioned shortly after the news of the bomb broke, and "Stronger Together" was spotted on signs left outside the Erawan shrine where the bomb was detonated on Monday. (See here for an analysis of who might be behind the attack.)
But the slogan really started growing in popularity on Tuesday after a speech by Prime Minister Prayut Chan-ocha calling for national unity.
"I would like to seek co-operation from the media, including all social media agents, in providing news that will be constructive rather than news which expounds violence and destruction," Chan-ocha said.
Chan-ocha, who took power after last May's coup, went on to warn against messages that "create misunderstandings in our society". On Thai TV broadcasts the speech ended with a still photo of the national flag and the slogan "Our home, our country, together, stronger". Soon thereafter "Stronger Together" took off in popularity, with nearly 100,000 tweets using the hashtag before 1200 GMT Tuesday, including many photos, drawings, and heartfelt messages:
Although "Stronger Together" was one of the top Twitter trends in Thailand on Tuesday, the overall numbers were much less than for the hashtags "Pray for Thailand" and "Pray for Bangkok", which combined had been used more than 1.5 million times in the hours after the attack.
Blog by Mike Wendling
Reporting and translation by Sucheera Maguire, BBC Thai
Next story: The Syrian refugee who says: 'Don't come to Sweden!'
A Syrian refugee is using social media to dispel what he says are myths about what life as a migrant is like in Sweden. READ MORE
You can follow BBC Trending on Twitter @BBCtrending, and find us on Facebook. All our stories are at bbc.com/trending.