Are video pranks really all that funny?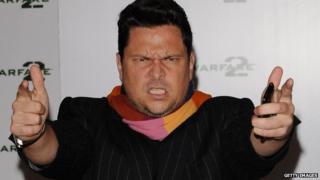 Over the past year, several controversial pranks have been among YouTube's most-watched videos. They're often surprising, sometimes cruel - but are they really funny?
Some of the biggest online video stars rack up hits by playing tricks on strangers. On BBC Trending we've talked to a few of them - including comedians who aggressively invade your personal space and Yousef Saleh Erakat, aka FouseyTUBE, whose pranks often try to make serious points, but have also led to confrontations with strangers.
One of the most popular YouTube stars, Vitaly (real name Vitaly Zdorovetskiy), entertains millions by faking violent scenes or crimes and seeing how strangers react - videos that are liberally interspersed with how-to guides on chatting up women.
In one of his prank videos, he walks up to people at a bus stop, sets down a suitcase, and says "your life, your choice - you have 60 seconds" and runs.
"My channel stands out because it's edgy," Vitaly told BBC Trending. "What do I say to people who say it's too extreme? This is 2015. People like adrenaline, people want to see extreme stuff."
Prank-loving comedian Kai Humphries is a fan. "I think what Vitaly does is art, because of the production values and what he puts on the line," he says.
---
BBC Trending Radio
Hear more about this story on the BBC World Service - you can stream our radio programme or download our podcast.
---
But not everyone agrees. "Prank videos make me uncomfortable, because when I'm watching them, I'm more aligned with the person being pranked, and I always think, if that happened to me I'd be absolutely furious," says comedian Nish Kumar. "Sometimes I wonder where the actual humour is... what these pranksters are really, really smart at doing are things that get a reaction, whether it's positive or negative."
The father of the modern pranking video might well be Dom Joly, whose Channel 4 series Trigger Happy TV first aired 15 years ago. But he says he's still amazed by the new material the genre continues to spawn.
"Every day, if you look at your feed, there's stuff coming from everywhere, and there's different dynamics," Joly told BBC Trending. "Some are really cruel. For instance there's a prankster in Egypt who recently took Paris Hilton up in a plane and told her she was going to die because it was crashing. There's a guy in Turkey who's like a Charlie Chaplin on speed who runs around slapping people and throwing chickens into taxis.
"For me doing pranks is totally about adrenaline. That's one of the real highs of doing it, and it's one of the reasons I stopped doing Trigger Happy - because I was so burnt out."
A risk for the prankster perhaps, but what if you find yourself unwittingly in one of these video? YouTube told Trending that privacy is important to them and that if you are disturbed to find yourself in a prank video without your permission, you can report it and it will be taken down.
"Don't punch me, it's a prank!" was a special edition of BBC Trending radio recorded at the Edinburgh Festival - you can listen to the entire conversation here.
Next story: Why are some Egyptians pining away for their long-gone King?
Amidst the turmoil and unrest of Egypt today, some are reminiscing about life under the country's last monarch - prompting an online debate about how good the "good old days" really were.READ MORE
You can follow BBC Trending on Twitter @BBCtrending, and find us on Facebook. All our stories are at bbc.com/trending.