When Moscow banned Fairy liquid, and other Western cleaning products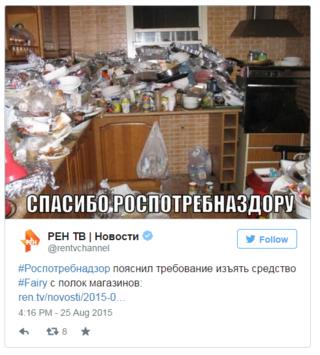 As Russian authorities took steps to remove foreign washing-up liquid and washing powder from shelves, Russians online reacted with both concern - and plenty of jokes.
The Russian consumer rights watchdog Rospotrebnadzor said it would take action against number of foreign washing products on Tuesday, including ones produced by Colgate-Palmolive, Procter & Gamble, and other multinational companies. In a statement, the watchdog said tests had uncovered toxic ingredients.
But the move was interpreted by many Russians not a defence of public health but rather the latest salvo in the heated trade war with the West that was touched off by Russia's annexation of Crimea. Earlier this month, Russia banned a variety of other Western goods including cheese and other foods. The country has itself been subjected to sanctions put in place by the EU and US.
After the announcement about cleaning products, many users commented on the similarities between Rospotrebnadzor, the government's consumer protection bureau, and Russia's mass communications watchdog, Roskomnadzor, which briefly blocked Wikipedia in Russia on Tuesday over a dispute about an article on drugs.
"Police finds two grams of Persil detergent on a man in Ivanovo," the comedians of @Lie_News tweeted. "In court, the defendant tried unsuccessfully to prove that the washing powder was merely cocaine."
One Twitter user joked about an old Russian TV ad for Fairy, the washing-up liquid produced by Procter & Gamble. "We won't waste our time [washing dishes] - we'll start eating from the dirty ones," tweeted @Shulz.
But while some greeted the news with humour, others worried about shortages of cleaning products and took the story more seriously. "How could foreign detergents possibly get in the way!!!!!!!" protested television presenter Vladimir Solovyov. "Back to bleach and ordinary laundry soap?"
Reporting by Mikhail Poplavsky
Blog by Mike Wendling
Next story: The foodie who hid an eating disorder
Blogger Gemma White didn't think she had the symptoms of anorexia or bulimia. But behind the pictures of luscious cakes and scrumptious meals on her blog, she was hiding a secret that was spiralling out of control.READ MORE
You can follow BBC Trending on Twitter @BBCtrending, and find us on Facebook. All our stories are at bbc.com/trending.