Demand to open doors to Syrians spreading online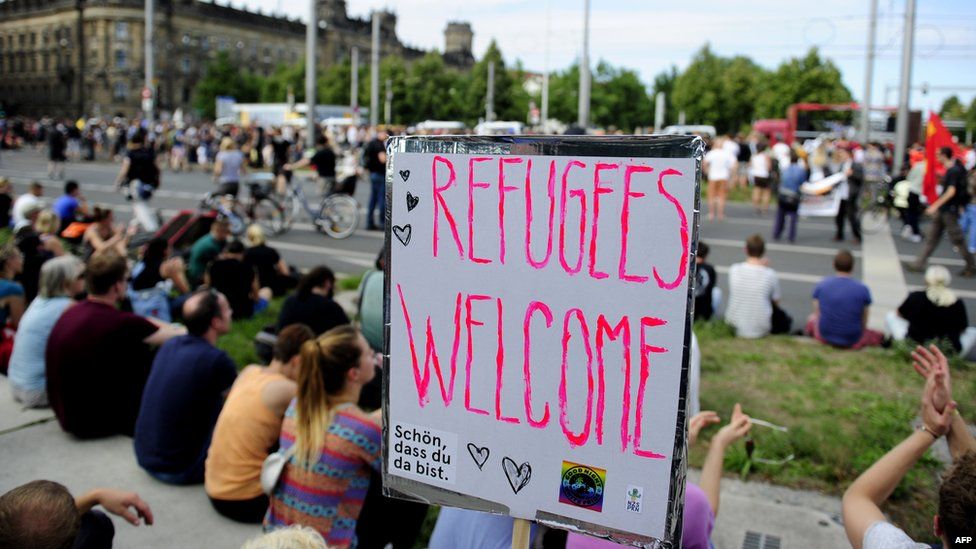 From the UK to Saudi Arabia, the demand that Syrians and other refugees be accepted is being spread by vocal online campaigns.
The public reaction to Europe's migrant crisis has been deeply polarised. Many in Europe are dismayed by the news of migrant deaths, and there have been several mass protests demanding stricter controls on the influx.
But over recent days there's been a pattern of internet activism with a different set of demands: that it's now time to relax the rules and let refugees in, particularly Syrians fleeing the war there.
More than 12,000 people have shown their support for an Icelandic writer's Facebook plea for her country to take in more refugees. That might not sound like a lot, but bear in mind the total population of Iceland is not much more than 300,000.
Not everyone was supportive. "Islam is totally not compatible with Europe," read one comment. But most of the comments were broadly positive about the refugees and about Bjorgvinsdottir's initiative.
The large numbers of supporters in such a small country caught global attention. "Thank you, Icelanders, for again taking the lead as citizens - not only of Iceland, but also of the world," one American commenter said. "You a great country, a great people."
The promise made by Icelanders on Facebook also attracted particular attention in the Arab world. Of the four million Syrian refugees who have fled the war in their country, most have fled to neighbouring countries - Turkey, Lebanon or Jordan. But despite their proximity to Syria, no Syrians claiming asylum have been taken in by Saudi Arabia or other wealthy Gulf countries.
Arab human rights activists started a hashtag to try to shame their governments into taking action: "Syrian Refugees have a place in the Gulf."
The tag didn't generate huge amounts of tweets, but the words Iceland and Austria were trending in Arabic, the latter after a pro-migrant march attracted 20,000 people on Monday. "It is shameful when Iceland and Austria open their doors to Syrians and the Arab Gulf countries allow none," one Palestinian tweeted, while a Kuwaiti commented: "Thousands of Icelanders invite over Syrian refugees, they are non-believers who do more for Islam than some of our Islamic nations that show little signs of Islamic values."
'Refugees Welcome' - in German football stadiums
The actions of Germany have also sparked global interest. As BBC Trending reported last week, Chancellor Angela Merkel's changes to asylum rules prompted love letters from Syrians. More broadly, Germany is the top destination for migrants from outside the Europe and expects to take in 800,000 this year - more than the total number who entered the EU in 2014. The decision has not been universally popular, and Merkel was greeted with boos last week at a shelter for asylum seekers. The German Chancellor visited the shelter after it was the scene of clashes, and there have been a number of other attacks on housing for asylum seekers.
But over the weekend migrants got support when supporters in a number of football stadiums unfurled banners saying "Refugees welcome". Football club Borussia Dortmund even invited more than 200 refugees to take in their match.
The show of support caused mentions of "Refugees Welcome" to spike online, with more than 40,000 tweets over the weekend using the hashtag in a mix of European languages and Arabic. The trend - and the signs - were also noticed across the English Channel.
One of those inspired by Germany's approach to migrants from Syria and other conflict zones was London-based writer Sue Hubbard, who told BBC Trending she was moved to act by the continuing stream of stories about migrants dying at sea. In two days, more than 65,000 signed her petition on the website Change.org calling for the UK to provide "immediate sanctuary for those fleeing from war."
"I'm not a professional campaigner," she said. "I had no idea the petition would take off like it has." While Hubbard admits the action is more of a pressure campaign than a detailed plan, she says: "We can't just be sitting here drinking our lattes while children drown… I just think enough is enough."
"We are not asking that they be given permanent residence," the petition says, "but that as a humanitarian act [migrants] are given a place of sanctuary while their futures are decided." It's easily searchable online but includes a graphic photo of a dead child, which is why we're not including a link.
While there's little widespread indication that relaxation of migration policy is a popular idea - a recent poll indicated that two-thirds of the UK public would support deploying the British Army to Calais to restore order - in the UK, just like in Iceland, Germany and the Gulf, the debate about refugee policy remains sharply divided.
Every day, Thomas van Linge scours Twitter, Facebook and YouTube for the latest on the Syrian conflict. But Thomas doesn't work for an intelligence agency.READ MORE