The black students rallying against "remnants of apartheid"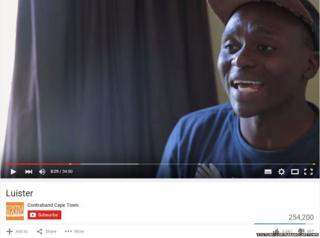 Black students at an elite South African university go viral online, with their complaint about enduring racism
The controversy began when a film was posted on YouTube chronicling the challenges faced by black students at Stellenbosch University, one of Africa's most highly regarded universities. Titled "Luister" - meaning "Listen" in Afrikaans - the film detailed racist incidents and also described how students struggled with Afrikaans lessons. "If you don't speak Afrikaans, you don't belong here," said one interviewee, while another said: "I cannot after 23 years of freedom be in a space where I am fighting to simply go to classes that I pay for, like any other student."
The video has racked up more than 250,000 views. It's also fuelled a campaign by students who are calling for a review of the use of Afrikaans, one of South Africa's 11 official languages and one which developed from the descendants of Dutch, German and French settlers who arrived in the 17th century.
Open Stellenbosch, a group of students and staff working "to purge the oppressive remnants of apartheid" in the university, held a mass demonstration on Tuesday to express their anger against the language policy. The group is demanding that no student should be forced to learn in Afrikaans and all classes must be available in English. "We also are hopeful that many people are now beginning to see that the language policy, despite its stated intentions, safeguards Afrikaans and Afrikaner culture at the expense of black people," it said on Facebook.
The language debate has spilled out well beyond the university campus and has become a talking point across the country and on social media.
"What started off as a few moans and debates about that language policy has evolved and morphed into a revolution," tweeted one user, while another said: "@OpenStellies challenges me to do better, accept more responsibility and #Luister to pain+anger and reflect on my part in it."
"It's unrealistic to try and keep a university Afrikaans," commented a user on YouTube, "The terrible racism that still harms many is still real, and as long as there's a system that excludes some, even if you argue it's just on the academic level, it will filter through into the campus culture."
The intense reactions to the film also led to the university officials being called before a parliamentary committee. Vice-chancellor Professor Wim de Villiers said Luister made him "extremely uncomfortable."
"Hearing these narratives of racism is painful to me. I'm not going to defend the indefensible. These things are wrong, end of story," he said. In a statement emailed to BBC Trending, the university said it wanted to start discussions with Open Stellenbosch - officials say the activists have so far refused to talk.
But the Open Stellenbosch group has also come under criticism. Social media users noted that one of the people featured in the film was allegedly involved in a clash on a college campus on Tuesday, although the group distanced itself from the student. And some reported that they heard the slogan "One Settler, One Bullet" - an anti-white rallying cry used by an armed group during the anti-apartheid struggle - during the Stellenbosch protest. "It feels like I am not welcome in Stellenbosch," wrote one white blogger.
Comparisons have been drawn between the protest and #BlackLivesMatter, the hashtag used predominantly in the US to protest against police violence. "Solidarity with those participating at the mass march against apartheid culture," tweeted Zellie Imani, an American activist and blogger behind the website Black Culture.
Blog by Samiha Nettikkara
Additional reporting by Waseem Mushtaq
Next story: Demand to open doors to Syrians spreading online
From the UK to Saudi Arabia, the demand that Syrians and other refugees be accepted is being spread by vocal online campaigns. READ MORE
You can follow BBC Trending on Twitter @BBCtrending, and find us on Facebook. All our stories are at bbc.com/trending.