Who are these Russian fighters posting pics of themselves in Syria?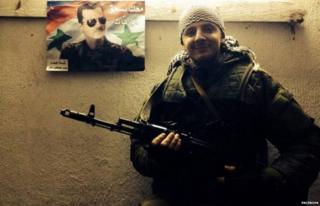 They're brandishing guns, smiling and posing in front of posters showing Presidents Assad and Putin. But who exactly are the Russian soldiers and fighters posting pictures of themselves inside Syria?
The presence of Russian soldiers in Syria is nothing new. As long ago as 1971, Moscow leased a small naval installation in the Mediterranean port city of Tartus. But as talk of further Western strikes against Syrian targets increases, there's been intense speculation that Russia will now go beyond just training President Bashar al-Assad's forces. Indeed some people already think there's evidence that Russian troops are fighting on the ground, although there's no hard evidence of that so far.
Now, a series of striking pictures, including selfies that seem to have been posted by Russian troops in Syria, are being shared on Russian social media - and prompting an intense debate.
The solider selfies are being re-shared by Russian opposition activists, in particular the opposition War In Ukraine (WIU) group, which first came to prominence investigating Russia's involvement in the conflict in eastern Ukraine.
After analysing social media posts from Syria, WIU activist Ruslan Leviev summarised his findings in a blog post - from which perhaps the most striking element was photos of Russian soldiers or fighters who, according to their profiles on Facebook and the Russian-language social networking site Vkontakte, have been deployed to Syria.
What can we tell from these photos? Well, many are geo-tagged - they include location information. Almost all, Leviev says, were taken in or near the Russian naval installation at Tartus. Nothing so far, then, to contradict Moscow's officially stated policy.
But some of the photos are tagged with locations in Syria's huge Homs province, which includes areas which have seen intense fighting. Additionally, the WIU researchers looked at a YouTube video from August apparently showing fighting to the north of Latakia, Syria's main port city which lies to the north of Tartus. They also say they found footage of drones flying in Syrian airspace. Russian words are audible on the battle footage.
"The video we've analyzed prove that it was a Russian armoured personnel carrier [that was involved in the fighting], supplied from a Russian military unit (not straight from the factory) and had a Russian-speaking crew," Leviev told BBC Trending.
But does that actually mean these are Russian soldiers fighting? Actually, not quite. Leviev urges caution. These pictures and videos "wouldn't be enough to conclusively say the crew consists of active Russian servicemen," he says. "They could be Russian mercenaries sent to Syria, among other things. We believe there is not 100% proof that Russian servicemen are taking part in combat operations in Syria.
Instead, he says, what the social media posts do show is a "sharp change of approach", with troops being deployed to Syria for longer stretches rather than simply stopping for resupply on passing ships.
"Before this spring Russia's government had a completely different position. They stressed that the Tartus depot has no military or strategic importance," he says.
Last week Russian President Vladimir Putin said it was "premature" to talk about his country's forces getting involved in direct fighting in Syria. And on Monday, Russian Foreign Ministry spokesperson Maria Zakharova said that Russia has never concealed the fact that they supply military equipment to Damascus.
Still, the possibility of increased Russian support for Bashar al-Assad has so worried the West that US Secretary of State John Kerry has expressed his concerns directly to Russian Foreign Minister Sergei Lavrov last week. US officials told The New York Times that Russia has despatched an advance military team to Syria, as well as housing units and an air traffic control centre.
The photos have provoked many comments from inside Russia, although not much chatter from a usually vocal pro-Kremlin contingent on social media. "Multipolarity is when in Syria Russian army battles against local militiamen, but fights instead of them in Donbass (in Ukraine)," one user wrote, while another satirical account tweeted: "Syria is ours."
Reporting by Mikhail Poplavsky
Blog by Mike Wendling
Next story: The viral photo of an "IS refugee fighter" who was nothing of the sort
The possibility of militants sneaking into Europe as part of the huge flow of migrants from Syria and other countries has long worried governments and experts, but one viral picture claiming to show proof of a "migrant" Islamic State fighter isn't at all what it seems.READ MORE
You can follow BBC Trending on Twitter @BBCtrending, and find us on Facebook. All our stories are at bbc.com/trending.