Why this picture of a migrant child being hugged went viral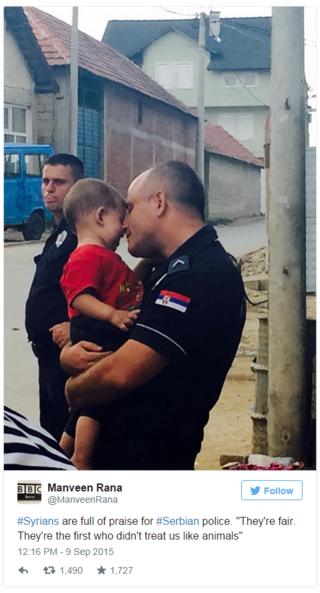 The image stands out even in the enormous flood of pictures that have emerged from the trail of people travelling through Europe in recent weeks.
It shows a square-jawed police officer with close-cropped hair nuzzling a young Syrian boy. The photo, taken by BBC Radio 4 journalist Manveen Rana was retweeted and favourited thousands of times. Rana snapped the picture near a crossing in southern Serbia, where a group of migrants including Syrians and Iraqis had arrived after walking all night.
The migrants had crossed two borders to get there. "There'd been a riot the night before on border between Greece and Macedonia," Rana says. "Thousands were stuck there for days in very difficult conditions, and at 1 a.m. there was a huge riot and they stormed the border."
Some of the refugees say they were beaten by the Macedonian police. They then made their way north to Macedonia's border with Serbia.
"Everyone arriving there was completely exhausted, especially the children," Rana says. "The policeman had been there most of the day in the heat, processing hundreds of people too, which can't have been easy either."
The refugees were being processed by police and waiting for a UN bus to take them away from the border. That's when the police officer spotted the small boy and embraced him.
"It was such a human response to pick up the baby like that," she says. "A lot of the Syrians were coming up to me and saying 'this is the first time a police force hasn't treated us like animals.' Serbs on Twitter were messaging me saying that it felt like a moment of redemption, because they've been through war themselves."
---
Hear more on this story
Manveen Rana spoke to Radio 4's World at One - listen to the programme here.
---
And it was the echoes of the Balkan wars of the 1990s that prompted much of the discussion about the photo on Twitter. "Bear this on mind next time you thought Serbs are [genocidal] people," one Serb commented, while another said: "Finally some truth about Serbs, that is the true face of Serbia, not all 90's propaganda." There was also criticism of Western media and of the BBC in particular - many Serbs feel they've been unfairly portrayed in the media.
But in a reflection of how divisions in the region still remain, some ethnic Albanians took to Twitter to claim the officer as one of their own. "This an Albanian police," one said. "Serbs would never do this." But others pointed out: "There's no such thing as Albanian police in Serbia; he's an ethnic Albanian and a member of Serbian police force."
Rana is now travelling through Serbia with another Syrian family. On her Twitter feed, she also noted that Serbian taxi drivers and other businesses have been charging refugees huge sums of money. "Serbian taxi drivers have been ruthless. They circle the area where #refugees camp and charge extortionate sums at the end of the journey," she tweeted.
She was surprised by the reaction to her photo of the officer and didn't quiz him after taking his picture, but noted he could well be of Albanian ancestry - there are many ethnic Albanians in the areas of southern Serbia near the border crossing.
And on Twitter, some argued his ethnic background didn't make a difference. "Whatever his nationality," one commented, "the policeman is a credit to his uniform :)"
Blog by Mike Wendling
Next story: The refugees telling other refugees to stop dropping rubbish
Pictures of trails of detritus left behind by thousands of asylum seekers travelling across Europe have been widely shared online - but now some are urging their compatriots to stop leaving rubbish everywhere.READ MORE
You can follow BBC Trending on Twitter @BBCtrending, and find us on Facebook. All our stories are at bbc.com/trending.