Can 'fat shaming' be defended?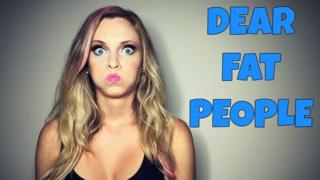 When it comes to justifying offensive jokes, you must have heard the irony argument.
It's the intellectual twist that has brought the world such politically incorrect characters as David Brent in The Office ("I don't care if you're black, brown, yellow - Orientals make very good workers") and Peter Griffin in Family Guy ("Oh come on, Lois. A woman driving a car. Hahaha").
The idea is that racism, sexism and all manner of sins can still find a place as long as we are actually laughing - ironically - at the abuser themselves. It's all very post-modern: jokes within jokes.
Many of us find that enough to make such humour just about acceptable - perhaps thrillingly so - and we laugh along too.
But on the internet this week, many people weren't laughing along with Nicole Arbour. She is the comedian whose six-minute video, "Dear Fat People," got over 25 million views on Facebook and YouTube.
It's a pointed rant full of broadsides aimed at obese people and the notion that it's OK to be overweight. She says being obese is like a form of "assisted suicide". "Fat-shaming is not a thing," she says in her video. "Fat people made that up. If we offend you so much that you lose weight, I'm OK with that."
So many people "flagged" the YouTube version of the video that it triggered the network's safeguards against offensive content and was briefly taken down - along with her entire channel. She then made headlines, calling that mechanism "censorship".
---
BBC Trending Radio
You can listen to the full BBC Trending interview with Nicole Arbour here.
Hear more from the team on BBC World Service radio. Stream the programme or download our podcast.
---
So can the irony argument apply to "Dear Fat People"? It was definitely Nicole Arbour's main defence when I interviewed her for BBC Trending.
Despite impassioned and upset responses from those who consider themselves overweight, she still insists her aims are essentially noble. "We really care about them and we want them to be healthy because I'm selfish and I want them to be around," she says.
Really - or is that just an excuse for a cheap laugh? "I don't shame people," she insists. "It was an act," after which "I go back to myself versus my stand-up comedy mode."
So there it is - the irony argument.
In other words, it would be offensive if she was making such arguments as herself, but since she is doing it in character, it is something different. "I am playing on the fact that I'm a blonde girl who looks like they could be paid by the hour by a businessman caller," she says. "Sometimes I just play into the stereotype of what I look like and have a little fun with it."
For her critics, these arguments are specious - in particular, the idea that obese people, who likely understand the health issues and may already be sensitive about their appearance, can somehow be helped by being hurt.
I put it to her that playground bullying does not, on the whole, raise the esteem of the children they target. "I don't believe in bullying at all," she says. "I think it's just being fair. I am an equal opportunity offender."
This is the second level of the irony argument - that all groups are fair game as long as you make fun of all of them equally.
I asked her if she's targeting a vulnerable group. "I don't believe they are more vulnerable than anyone else because everyone has the human condition. Everyone has insecurities," she says.
It's undoubtedly true that everyone has insecurities, but the debate online is about when exactly it's OK to play on them.
But it's also a debate about censorship. Nicole Arbour argues that the huge numbers of online complaints, and the flagging of her video by other YouTube users in such massive numbers that it was briefly taken down, amounts to cultural censorship - whereas violent or extremist content on social media often goes unnoticed.
That may be. But it's also a sign that people are noticing her brand of humour, which in the end is of course her aim.
In the more extreme world of the viral web, satire can be edgier, pranks more controversial and humour more risky.
But as internet comedy increasingly gets noticed by the cultural mainstream, the visceral debate over "Dear Fat People" may represent the limits of how far the irony argument can be stretched.
Additional reporting by Sam Judah
Next item: Don't punch me, it's a prank
Over the past year online pranks have continued to spiral and go viral. Is all fair in love, war and pranking? BBC Trending was at this year's Edinburgh Festival debating this with three obliging comedians; wind-up critic Nish Kumar, cheeky prank lover Kai Humphries and hoax sceptic Anna Morris.. LISTEN
You can follow BBC Trending on Twitter @BBCtrending and Facebook. All our stories are at bbc.com/trending