'Damonsplaining': Matt Damon accused of insensitivity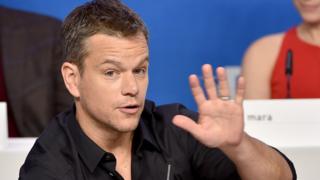 Matt Damon came under fire this week after interrupting Effie Brown, a Hollywood producer, during the season premiere of Damon and Ben Affleck's HBO show, Project Greenlight.
The reality show focuses on selecting a first time director to create a feature film.
While discussing one of the scripts, Brown brought up concerns that the only black character was a woman hit by her white pimp.
Brown was the only black or female panellist present, and asked the group to be mindful of selecting a diverse directorial team. She suggested choosing one team that included a woman and a Vietnamese man.
She urged the group to "think about whoever this director is, the way they are going to treat the character of Harmony".
Damon interrupted Brown's discussion, saying "when we're talking about diversity you do it in the casting of the film, not in the casting of the show."
The implication was that a diverse group of decision makers behind the camera - the subject of the show Project Greenlight - was not important, as long as the film they were creating within the show had a diverse cast.
Brown's response, a shocked "wow", reflected the outrage felt by many on social media and led to the coining of the term "Damonsplaining".
One user defined the term as "#Damonsplaining - over talking and/or shouting down a person of colour to explain something about their own race or culture".
The concept stems from the popular terms mansplaining or whitesplaining.
Other users brought up the gulf in female representation within the industry, writing "#Damonsplaining has taught us that Hollywood has a long way to go in having diversity in front of & behind the camera."
According to a report published by the USC Annenberg School for Communication and Journalism, across the top 100 films of 2014, only 15.8% of content creators - directors, writers, producers, editors - were female. Equally concerning, only 5% were black, and 2.4% were Asian.
Dr Martha Lauzen, executive director of the Center for the Study of Women in Television and Film, published another report showing that programmes with at least one woman in an executive production or creator position featured more female characters and employees.
On broadcast programmes with no women executive producers, females accounted for 37% of major characters. On programmes with at least one woman executive producer, females comprised 43% of major characters.
Although Lauzen says that Damon was most likely unaware of how offensive his statement might be, it reflects the wider attitudes towards diversity in the industry and the fact that many people are unaware of it.
"We all feel most comfortable with others who look like ourselves. We tend to gravitate towards people like us but it's not necessarily a conscious thing."
"At this point the cultural zeitgeist is moving us in the direction of exposing that kind of behaviour so people become more aware."
Damon addressed the issue later in the show, saying "I'm glad Effie flagged the issue of diversity for all of us." He argued that any decisions should be based on merit, rather than additional factors.
He did not discuss Brown's suggestions that a director better able to understand minority concerns would improve the quality of the film.
Brown has produced 17 feature films, including Dear White People, and joined Project Greenlight in 2014 to mentor winners of the filmmaking competition.
The show, now in its fourth season, was created to provide a platform for first-time filmmakers, who then make a movie on a $3m (£1.9m) budget.
Despite the tension surrounding the discussion, Brown chose to interpret the incident positively.
On her Twitter account, she wrote "Thank you for watching the show and getting a great conversation started."
Blog by Olivia Lace-Evans
Next story: Army mothers pose for photo - while breastfeeding babies
A photograph of 10 military women breastfeeding have lead to people voicing their support for photographer Tara Ruby's attempt to normalize public breastfeeding - particularly for those on active duty.READ MORE
You can follow BBC Trending on Twitter @BBCtrending, and find us on Facebook. All our stories are at bbc.com/trending.