Meet three people targeted for being 'atheists', and a Muslim leader condemning their beliefs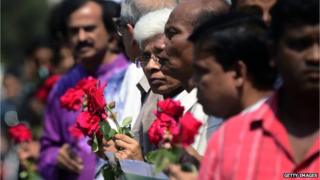 There's been a series of violent murders of Bangladeshi internet bloggers, accused of being atheists by Islamist groups - with four killed so far this year. In the videos and stories below, you can meet the people living through this situation.
1. The blogger's widow: "They think they can do whatever they want to".
Bonya Ahmed is herself a writer and was also married to perhaps the most famous atheist killed this year, Avijit Roy - the moderator of a popular online blog called "Free Thinking," which defended secular and humanist ideas.
She and her husband were attacked together in February. Bonya lost fingers and was scarred, but lived. Her husband was hacked to death with machetes in a manner that followed the same gruesome pattern of later killings. They had returned home from the US, where they lived, to the Dhaka Book Fair.
The back story to Bangladesh's blogger murders is complex, but here are the facts in brief: in recent years, a group of people who deny the existence of God, some using rational arguments and others using dark and satirical humour, has grown up on the Bangladeshi internet. Other internet bloggers are not atheists, but instead better described as secular campaigners: they use the internet to strongly argue that religion should be kept out of politics.
In this mostly Muslim nation, these bloggers attracted the attention of Islamic groups - especially after they were part of street rallies demanding a death sentence for an Islamist leader convicted as a war criminal.
2. The Muslim leader: "No one should dare to speak against the Prophet Mohammed".
In May 2013, the streets of Dhaka again filled up, this time with Islamic groups, demanding that atheist bloggers be arrested for insulting religion. It was led by Hefazat-e-Islam, the "protectors of the Islamic faith" - a big and grassroots organisation linked to a network of thousands of madrassas. The group's joint secretary, Mohammed Zafarullah Khan, led the charge out of the madrassas.
For years the seminarians never intervened in politics, but issues such as the rise of atheist blogging stirred them into demanding the government act. The authorities cracked down and the demonstrations ended with a violent standoff between police and protesters.
Hefazat-e-Islam deny any links to the later spate of murders. The police agree and say extreme jihadi outfits are involved.
3. The blogger still in Bangladesh: "My keyboard must keep going".
"I have never been so terrified in all my life," Sobak, a young father-of-two, told me at his home. We've used his pen name rather than his real name. given the threat against him.
His blog entries criticised Islam, especially its attitudes to women and to religious minorities, and called for secular thinking. When Islamist groups first drew up lists of alleged atheist bloggers, his online pseudonyms and alter egos appeared six times and his face was even on one of the placards they carried on their marches.
Despite this, he says he wasn't scared for himself after the first atheist writer - named Rajib Haider or "Thaba Baba" - was killed just over two years ago. Rather, fear really set in after Avijit Roy's murder in February 2015.
Soon after that, another atheist blogger - Washiqur Rahman - posted the hashtag "I am Avijit" to protest. A month later he too was attacked and killed with machetes in a busy street in the Bangladeshi capital Dhaka. This grim pattern was repeated with two more brutal murders of secular bloggers - Ananta Bijoy and Niloy Neel.
Now, Sobak is cautious whenever he goes into the street, "I feel like I am in an open air jail," he says. "I can see the sky but it's like a prison. I have to limit my movements. I have to be very cautious all the time."
"I am not free," he says. "My family is very scared. Every day people remind my mother that her son is under a death threat. My mother calls and says she is worried. She has nightmares. That only happens if you are really scared. Whenever a blogger is killed, I [also] get very scared and have nightmares."
He writes somewhat less openly these days - but is still active on Facebook. "All I know is that I must win," he says. "I will not be silenced, my keyboard must keep going. I will not accept defeat by a backward dogma. I must go on, no matter what."
4. The policeman: killers have "international connections"
Bangladesh's elite commando force, the Rapid Action Battalion, is responsible for fighting terrorism. They're a controversial force, criticised in the past for heavy-handed tactics We asked the Rapid Action Battalion's director, Benazir Ahmed, who he thought was responsible for these murders. He said he feared international Islamist groups were now involved. "We don't think we should confine our security concerns with the limits of national boundaries," he said.
No-one knows for certain who is behind the killings, but clandestine Islamist groups have claimed responsibility for some of the murders. A video posted by a group known as Al-Qaeda in the Indian subcontinent shows pictures of Bangladeshi bloggers and exhorts followers to kill them.
The Bangladeshi authorities suspect a local group, Ansarullah Bangla Team - which some claim also has links to Al Qaeda. Police have recently arrested alleged members of Ansarullah Bangla Team.
5. The blogger in the West: "I don't want to live on my knees"
Several atheist and secular bloggers have now left the country. Others, such as Arif Rahman, who has appeared on several BBC programmes, have done much of their writing from the UK. Recently, Islamist militant groups seems to have warned that Bangladeshi atheists living in the UK, US and other Western nations will also be on their 'death list', according to reports.
There's much anger with the Bangladeshi authorities among the blogging community. They accuse the government not only of failing to protect them - but of arresting atheist bloggers to appease Islamic groups. Six have been arrested and bailed on charges of hurting religious sentiment.
Minister of Information Hasanul Haq Inu defended government actions. "We have certain laws that say you shouldn't use religion in the wrong manner," he told BBC Trending. "If you incite somebody or you incite disorder, then you are supposed to be arrested and face trial".
We asked Arif Rahman: why do bloggers keep on writing about atheism despite the threats? "If you surrender yourself to this theocracy," he replied, "then if you have a mindset like mine, it would have really difficult to live. So it's time to push back."
Reporter: Mukul Devichand
Video journalist: Greg Brosnan
Additional reporting: Estelle Doyle
Our World: The Bangladesh Blogger Murders will be broadcast this weekend on BBC World News, at 11.30, 16.30 & 22.30 GMT on Saturday, 26th September and at 17.30 GMT on Sunday, 27th September.
Listen to BBC Trending's special broadcast from Bangladesh in August, exploring subjects including the murders of bloggers, here.
Next story: The young Saudi who could be executed at any time
Activists are organising online to support a young man sentenced to death in Saudi Arabia, but the conversation within the country is split along sectarian lines. READ MORE.
You can follow BBC Trending on Twitter @BBCtrending and Facebook. All our stories are at bbc.com/trending