'China's Donald Trump' kicks off communism debate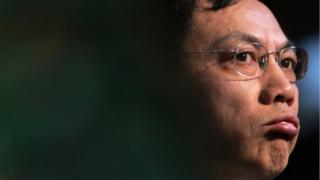 A post by a Chinese property mogul who's fond of verbal sparring caused a heated debate about the country's political system under the hashtag "We are successors of communism".
Ren Zhiqiang doesn't shy away from a verbal battle. A famous property developer, Ren is unapologetic about the way soaring housing prices in China's big cities affect others. When one of his detractors chucked a pair of shoes at him during a speech, he joked that the protester was probably someone who couldn't afford the down payment on a house.
Ren, the former chairman of the Hua Yuan Property Company, has been compared to American businessman (and now Republican presidential candidate) Donald Trump. In China he's nicknamed "Cannon" for his outspokenness, which has earned him more than 33 million followers on the Chinese microblogging service Weibo. So when one of his recent posts criticised the youth wing of the ruling Communist Party, it started a huge debate about the past and future of the country's politics.
"We've been deceived by these slogans for years," Ren wrote, responding to a patriotic message posted by the Communist Youth League on Monday which declared: "We are the successors of communism."
Ren described his upbringing in Mao's China and detailed how his parents were forced to become farmers during the Cultural Revolution. The property tycoon didn't go so far as to criticise the idea of communism - in interviews he maintains he's a committed socialist - but he did chide the Youth League for its rhetoric, and for implying that a communist utopia is close at hand.
"The only way to possibly ever achieve the ideal of communism is a long, long road, taking the effort of dozens of generations," Ren wrote. He went on to advocate greater democracy and freedom, income stability, legal reforms and greater international cooperation. His post quickly became a top trend on Weibo and prompted an often frank debate on the future of the Chinese political system.
"I support you daring to speak the truth, Chief Ren!" said user Tianchao Ming. Others called him a "true patriot" and another user going by the name Righteous Messenger said: "You are brave to speak the truth."
But others were less impressed. He was accused of spouting "rubbish" and told to "go die". "You misinterpret our great [Chinese Communist] Party," one Weibo user said. "I'll forward [your post] to more people so that they can see the chaos by which you disgustingly judge our great Party. I'm outraged!"
Some of Ren's posts have been deleted by government censors in the past, but this one remains online, and he did get some support from some powerful and perhaps unexpected quarters. Hu Xijin, editor of the daily Global Times newspaper and well-known as a nationalist, commented on Weibo: "We cannot talk about the ideals of communism and ignore the current acute problems… If grassroots ideological and political workers think that if they shout slogans of communism, they have completed their mission - that would be a great misunderstanding."
Reporting by Kerry Allen, BBC Monitoring
Blog by Mike Wendling
Next story: Meet three people targeted for being 'atheists', and a Muslim leader condemning their beliefs
There's been a series of violent murders of Bangladeshi internet bloggers, accused of being atheists by Islamist groups - with four killed so far this year.READ MORE
You can follow BBC Trending on Twitter @BBCtrending, and find us on Facebook. All our stories are at bbc.com/trending.