Searching for Azam, an injured Syrian child somewhere in Europe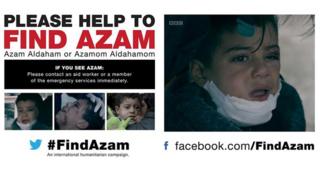 Among the thousands of Syrians now on the move across Europe is a 5-year-old boy named Azam - who was badly injured in what is believed to have been a car accident, and may still need medical attention. After he was featured in a BBC Panorama programme, people across the continent are using a Twitter hashtag to try and find him.
The search for Azam was begun by the public. After his story aired on the BBC's Panorama programme on 30 September, the hashtag "Find Azam" was started by Rosie Bloom, who tweeted: "A little boy, Azam, is out there with a broken jaw and no parents. That was the story to follow up on, Panorama". Others began tweeting at the BBC Panorama account and the personal account of presenter John Sweeney through the night.
The hashtag then began trending on Twitter in the UK on 1 October. Since then it has been used more than 8,000 times, in places including Austria, Germany, France and Sweden. For many of those commenting, the personal nature of the story was what resonated.
My meeting with Azam - John Sweeney, BBC Panorama
There was something immediately and obviously upsetting about the sight of him. Little Azam, aged five, had enormous brown eyes, a fizz of dark hair but an ugly black eye and a large bandage around his jaw, which was swollen and heavy.
We were in a reception centre - that's a fancy description for chaos in slow motion - just inside Serbia. The man carrying Azam was wearing a leather jacket and told us in Arabic that he had been injured in a car accident in Macedonia: "He was sleeping on the ground and a VW taxi ran him over."
"Leather Jacket" said Azam's mother was in Turkey. So where was his dad? He pointed to a second man wearing a pink shirt: this was his father. Azam and his "father" were travelling in a group, 13 men in all.
I thought he might have a broken jaw but they told me it had been X-rayed in Macedonia and it wasn't broken. Then they moved on, to be processed by the Serbian authorities. A Syrian woman with an autistic son who couldn't bear the pressure of the queues begged me for help. And I didn't see Azam again that day.
The war in Syria has cost 250,000 lives so far and many of the victims are children. It's nigh on impossible to get across how grim the war is.
The next day we were in the Serb capital, Belgrade, where it was raining hard. A park by Belgrade bus station, the next staging post for the people on the road, was a horrible mess of mud and humanity. And that's when we met Azam again, howling with pain as a Serbian medic wiped his infected jaw with a sterilizing agent. "I want my mummy," he howled. He was alone.
Dr Radmila Kosic was running a makeshift medical centre for the refugees and migrants out of a tent. She told me: "We'll just treat the wound and then we'll send him in the ambulance to the hospital."
I asked where Azam's father was. She told me that he had been around a minute ago. It felt odd for a dad not to be around when his child was screaming in agony. Our interpreter had a quiet word with the boy and something didn't add up. Azam was in pain and didn't speak clearly because of his jaw wound but the gist of it was his "father" wasn't his father, but an uncle. His real father was still in Turkey.
Finally, the man who claimed to be Azam's dad returned. Our translator was worried and questioned the man who replied, "I am his father."
We couldn't prove him wrong. Whoever the man is, father or uncle, he didn't seem keen to wait for Azam to be treated in hospital for long. He told our translator that he would rather press on to get to northern Europe, saying: "I'll see how it goes but tomorrow I'm leaving, either way."
In the chaos of the moment, that last statement didn't get translated word-for-word and, visibly, his attitude seemed to change when he and Azam did get into the ambulance which headed off to hospital. That was the last time I saw Azam.
An hour or so later we got an update on his condition. That he'd been X-rayed and the result was his jaw was broken. Dr Kosic told me: "He will stay in hospital for several days, I'm sure."
That didn't happen. Eventually, we received word that before Azam Aldaham could get the full course of treatment he urgently needed, he and the man with him had vanished.
Looking back on it now, it was one of those horrible moments in life when your instincts, as a human being, as a father, sense unease. But so much is going on, everything is so chaotic, that you can't truly register it. Once Azam was in the ambulance, we thought he was in good care.
The scale of the social media search for Azam has now been amplified by BBC accounts using the tag - including BBC Panorama and BBC Trending - as well as reporter John Sweeney himself. Users soon started tweeting Interpol - the European police agency - and other aid organisations to raise awareness about the situation. The hashtag was eventually picked up by US, Serbian, Spanish and by Australian media and the human rights campaigner Bianca Jagger.
Still, for all the frenetic tweeting of the "Find Azam" tag, is there any evidence that social media campaigns can be useful in tracking down migrants? Those searching are mostly using English, not Arabic, which might limit the campaign's reach among other Syrian migrants. On the other hand, Syrian migrants themselves are using Facebook pages to successfully track down missing relatives and friends while travelling through Europe to seek asylum.
In the last week, the search has continued to spread, with more than 1,000 posts on Facebook. The UNHCR in Serbia has also tweeted about Azam, adding they don't know the whereabouts of the boy, but "hope he is being treated for his injury in the EU."
Blog by Ravin Sampat
You can watch Panorama's film on Europe's border crisis, The Long Road, via the BBC iPlayer or on BBC World on October 17 and 18. Watch the experimental Snapchat documentary the team made here.
Next story: Is this manga cartoon of a six-year-old Syrian girl racist?
The image and caption were posted by a right-wing Japanese artist last month. Now, more than 10,000 people have signed a Change.org petition in Japanese urging Facebook to take it down. READ MORE
You can follow BBC Trending on Twitter @BBCtrending, and find us on Facebook. All our stories are at bbc.com/trending.