How Christopher Columbus became a hate figure for many online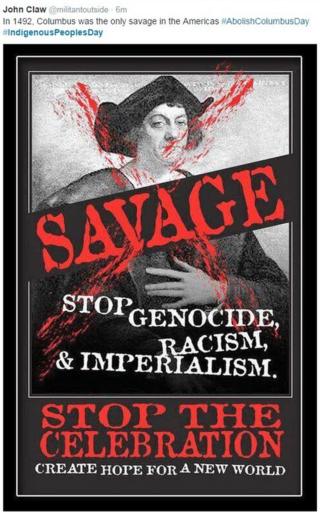 Most people in the United States celebrate a national holiday today, in memory of Christopher Columbus, the man often credited with "discovering" America. Many believe he doesn't deserve the honour, however, and on social media, the campaign to re-write his legacy is getting louder every year.
For more than 80 years, Columbus Day has been a federal holiday in the US, now celebrated on the second Monday in October. In many places, parades and festivities commemorating the explorer's arrival in the Americas date back far longer.
The day is becoming increasingly controversial, however. Many argue the man himself isn't worthy of commemoration. Columbus wasn't actually the first to cross the Atlantic, they say. The holiday is seen as a celebration of colonialism, and offensive to the continent's indigenous people. Some claim he was responsible for murder and enslavement, and was a brutal viceroy and governor of the territories under his control.
All of which helps explain why people are using the #ColumbusDay hashtag, which has appeared on more than 120,000 times on Twitter in the last week, to berate the tradition.
Anti-Columbus messages are by no means the only ones being sent. Some are using it to share inspirational messages: " 'You can never cross the ocean until you have the courage to lose sight of the shore' - Christopher Columbus. Happy #ColumbusDay!" (Actually a quote from Andre Gide's 1925 novel, The Counterfeiters.)
But many read a little more like these:
"I'm celebrating #ColumbusDay by walking into a stranger's home and claiming it as my own. Housewarming party to be announced."
"Ah yes, genocide. #ColumbusDay."
"#ColumbusDay has become like that drunk uncle everyone is ashamed of."
The Spanish version of Columbus' name "Cristobal Colon" has also appeared more than 8,000 times, and is trending in Mexico. But it is dwarfed by another phrase - #nadaquecelebrar, meaning "nothing to celebrate" - which has been used almost 80,000 times, and is trending across Latin America.
In both languages, people are calling for the day to be rebranded. A campaign to rename "Columbus Day" to "Indigenous People's Day" has been particularly vocal, with a hashtag of the new name appearing 16,000 times, on Twitter. A Spanish equivalent has appeared another 17,000 times.
The campaign isn't just limited to Twitter, either. This year, nine new US cities opted to recognise Indigenous People's Day. Albuquerque and Portland are among those to make the change, adding to a growing list of places that are eschewing the traditional celebration. Minneapolis and Seattle did the same last year. San Francisco has called the October holiday "Italian Heritage Day" for more than a decade now.
Blog by Sam Judah
Next story: Heard the one about the minister who got in a 'Kabul Taxi'?
A satirical Facebook page which pokes fun at government ministers has become the talk of Kabul. READ MORE
You can follow BBC Trending on Twitter @BBCtrending, and find us on Facebook. All our stories are at bbc.com/trending.