Egypt's melancholy as people claim 'no one went' to vote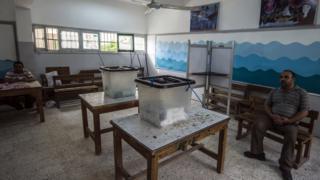 The low turnout at an election to choose Egypt's new parliament has prompted sarcasm and mockery on social media.
Egypt hasn't voted for a new parliament since a court dissolved the previous chamber dominated by the now-banned Muslim Brotherhood in 2012. But election polls were open over the weekend and government workers were even given a half-day off to vote on Monday before polls closed at 2100 local time.
Despite that, the early signs have been that turnout has been low. Egyptian Prime Minister Sherif Ismail said turnout for the voting on Sunday was between 15 and 16 percent but that he expected it to rise after the half-day holiday for public sector workers.
Online, a hashtag appeared - "no-one went" - as people voiced their ridicule and frustration.
"I don't care what my voice will do. Egypt will never ever change," tweeted one user, while another shared a photograph of an alleged employee napping at a polling station, "The afternoon nap is irreplaceable."
Among the first to use the hashtag, which has had over 65,000 Twitter mentions, was Moataz Matar, a presenter at pro-Brotherhood El Sharq TV based in Turkey. Matar was sentenced in absentia in July last year to 10 years in prison on charges of spreading false news, attempting to overthrow the government, and belonging to the Muslim Brotherhood.
He tweeted: "#Noonewent is not just a hashtag. It is a civilised and genius peaceful action that stresses that this population refuses to continue being a part of this charade that has been going on since 1952 [the Egyptian revolution of 1952, in which a group of army officers aimed to overthrow the monarchy]."
The voting on Sunday marked the eighth time since the first Arab Spring protests in 2011 that Egyptians have gone to the polls and some comments online expressed fatigue with the process. "It is the epitome of sarcasm when people ask why the young population did not participate in the election… the young people have had their revolution stolen. They are disillusioned.. killed.. imprisoned..praying day and night 'Allah Help Me Immigrate'," tweeted singer Mouhamed Attia.
The fact that people seemed not to be voting - but were tweeting in big numbers - was itself mocked with another hashtag - Twitter Parliament.
Thousands on Twitter have also come out to criticise those who have chosen not to vote with the hashtag "Go and vote for Egypt's future". "If you waste your 'voice' today don't wait for people to listen to you tomorrow," warned one user, while another tweeted, "The elderly have gone down to vote for a future they won't even be around for and you young people don't know what you want and are content just sitting in cafes."
Final results of the polls are scheduled to be announced in December after the second phase of elections.
Blog by Samiha Nettikkara
Additional reporting by Mai Noman
Next story: 'Sikh Lives Matter' - says a new global protest movement
After the deaths of two protesters in India, Sikhs around the world have been using online protest tactics to highlight what they say is injustice. READ MORE
You can follow BBC Trending on Twitter @BBCtrending, and find us on Facebook. All our stories are at bbc.com/trending.