The advert that said: 'Gift your wife a maid'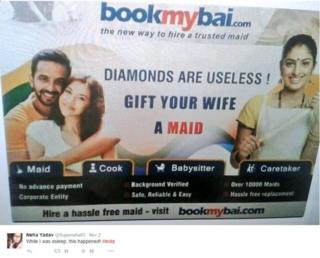 India is set to celebrate Diwali, the Hindu festival of lights, this month and it is customary to exchange gifts - but when a website advertisement suggested that husbands "gift" their wives a maid, it prompted a huge reaction online.
A picture of the leaflet was shared widely on Twitter - with comments accusing website BookmyBai ('bai' is a term used in cities like Mumbai to refer to female domestic workers) of sexism. One tweet even called the leaflet a "human slavery ad".
"So Bais are objects that a man gives as a 'gift'?," read a comment on the firm's Facebook page, while another tweet read: "Maids (humans) have become commodities. Brilliant thinking, @BookMyBai geniuses."
Several comments noted that the service itself, which allows people to find the domestic workers that are employed in many prosperous Indian homes, is good but said the advertisement sent a wrong message. "This ad that's going viral on Whatsapp is so problematic," a user tweeted, while another said: "Don't think the wives would agree with that analogy but an important service nonetheless."
When BBC Trending approached the website's co-founder Anupam Sinhal, he said people were reading too much into the ad. "We did not mean to offend women and it was meant to be taken in a light-hearted manner," he said.
All of the attention the advert got on the internet led to other inconsistencies being exposed. One enterprising user of the Reddit site went to the company's website, did a reverse-image search and found that photographs used in their testimonials were a mismatch with the names (and coincidentally, an image of a BBC employee also ended up being used by the site).
Sinhal acknowledges the photographs were incorrect and he has now taken them down, but he maintains the testimonies are real. "We had outsourced the website developer and they took images from the internet and uploaded it last week," he explained.
The website courted further controversy when the website Scroll.in reported how BookmyBai.com allows its clients to pick domestic workers by religion and region. "Profiling domestic workers on grounds [of] religion, region is discrimination, stop it," said prominent women's rights campaigner Kavita Krishnan. But another user countered: "Why not pick them by religion or region? If I like Malwani food..."
Sinhal says the firm is not particularly supportive of mentioning religion, languages spoken or region but they include it because it's what clients want. He said they allow maids from all parts of society to advertise. "It would be discrimination if we refused to include maids because they were Hindu or Muslim. We accept any profile," he told BBC Trending.
As for language, Sinhal says it helps match workers and customers with languages they can both communicate in. The inclusion of the workers' hometown is a security measure to help prevent crime, he says. "We want to give as much information as possible because you are bringing a random person to live and work in a place with your loved ones."
This is not the only advertisement that has caused a flurry on Twitter in India. In May this year, BBC reported about the mother seeking a bridegroom for her gay son - while some hailed the move, others criticised the ad as "discriminatory" for saying that applicants from the Iyer caste - an upper-class Brahmin community from southern India - would be preferred.
Blog by Samiha Nettikkara
Next story from BBC Trending: Filipino TV host offends with Arab Halloween outfit
A TV presenter of the wildly popular "Eat Bulaga" programme presented a Halloween special dressed (along with a guest) in traditional Muslim attire. READ HERE
You can follow BBC Trending on Twitter @BBCtrending, and find us on Facebook. All our stories are at bbc.com/trending..