Thousands tweet man's dying wish to watch Star Wars with the tag #ForceForDaniel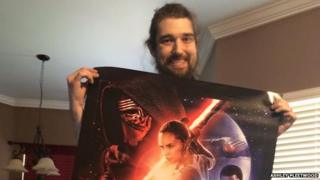 On 1 September, Daniel Fleetwood, an avid Star Wars fan, was given two months to live after surgery and chemotherapy treatment failed to stop the cancer cells spreading to his lungs.
The 32-year-old mental health counsellor started the hashtag "Force For Daniel" to try and get the attention of the film executives behind the latest Star Wars film. Daniel's dying wish is to see an early screening of the latest film, Star Wars: The Force Awakens - which is only due to be released in December.
Over the last week the hashtag has amassed over 34,000 tweets. Warwick Davis, who played an Ewok in a previous instalment of the franchise, showed his support by tweeting directly to Disney Studios, saying: "Daniel Fleetwood's dying wish is to see #TheForceAwakens. Please make his wish come true".
One user on Twitter said: "lets make this happen Disney. I will drive him there myself. Please help". Another wrote: "My wife's brother died of cancer. We know the struggle".
Despite setting up a GoFundMe to aid with medical bills - which to date has raised over $23,000 - time is running out for Daniel, his wife wrote on Facebook.
A few days ago she wrote: "Today marks the day Daniel was given 2 months left. We are both scared, nervous, anxious, grateful that he is still with us, crying a lot (well I am. He is a rock). We are on borrowed time now. Please make a decision quickly Disney or Lucas films, even if it's a flat out no!"
Disney has not yet released an official response to the couple's social media campaign. It is not clear yet whether the movie is completely finished or if press have been given access to the film for reviews.
Social media users poured in their tributes to Daniel and his struggle with cancer by making posters, photoshopping the couples' faces onto Star Wars images. One Jedi fan site even bestowed the honour of naming Daniel a Jedi Master.
There are signs the film-makers are aware of it all. Daniel's wife wrote on Facebook: "I've been told Daniel may possibly get an early screening due to his terminal condition, however not until the movie is 100% complete."
"The end is getting close for him," she added.
UPDATE: Daniel Fleetwood's dying wish was granted on Thursday.
His wife Ashley wrote in a Facebook post: "Today the wonderful Disney, Bad Robot and Lucasfilm teams made his final dream come true, Daniel just finished watching an unfinished version of Star Wars: The Force Awakens!!!"
The online campaign by the Fleetwoods was helped by Star Wars actors Mark Hamill and John Boyega, who play Luke Skywalker and new character Finn in the upcoming film. They retweeted the story with the #forcefordaniel hashtag.
A LucasFilm spokesperson confirmed that Fleetwood received a screening of the film.
Blog by Robert Spencer and Olivia Crellin
Next story: Why do half-and-half shirts offend football fans?
Why do half-and-half shirts offend football fans? The emergence of hybrid football shirts has created spikes of anger online. READ HERE
You can follow BBC Trending on Twitter @BBCtrending, and find us on Facebook. All our stories are at bbc.com/trending.