The real story behind the boy in the Barbie commercial
BBC Trending
What's popular and why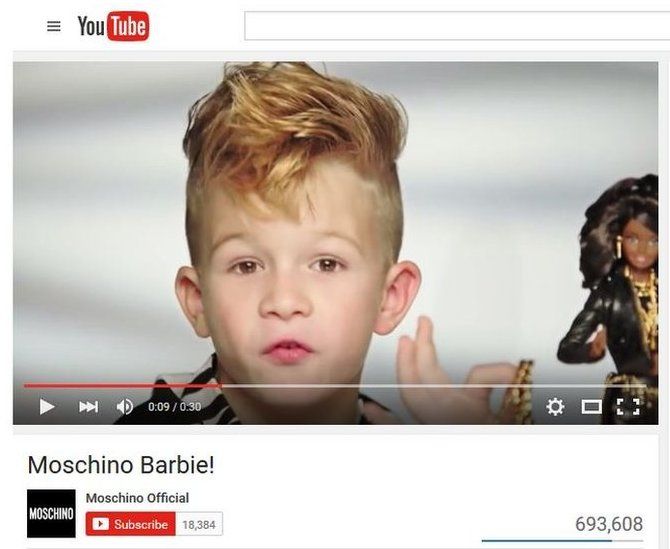 Mattel was praised for challenging stereotypes with a new ad featuring a little boy playing with the doll, but there's more to the story.
The story begins with Moschino Barbie. Back in October, the Italian fashion company Moschino announced a partnership with Mattel's Barbie, which would take the form of a limited-edition doll draped in miniaturised Moschino clothing and jewellery, plus a line of corresponding adult-size wear. The new doll - Moschino Barbie - was a huge hit and sold out in less than a day on 9 November.
It took a little bit longer for the internet to take notice of the ad that went up on YouTube for the doll - and for the inclusion of a mohawk-sporting little boy alongside two girls, giddily playing with Barbie's tiny handbag and mobile phone.
"Moschino Barbie is so fierce!" he exclaims in the campy spot, giving the camera an adorable wink at the end.
Fans of the ad were quick to heap praise on Mattel and on Barbie, which has been criticised for years for promoting gender stereotypes and impossible body image for girls.
"Kudos to Barbie for having a little boy in their commercial #eliminategendernorms," one person tweeted.
"People are losing their minds because for the first time in 56 years, the face of the brand is a little boy," wrote Buzzfeed.
Yahoo! Parenting called it "Mattel's inclusive move", likening it to retailer Target's recent decision to remove gender distinctions on products for kids. There was also negative reaction to Mattel "marketing Barbies to young boys".
But those looking to see the commercial airing during Saturday morning cartoons will be disappointed.
In a statement sent to BBC News by Mattel, the company clarified that this was a "fauxmercial".
"This video parodies iconic Barbie commercials from the 1980's starring a young [Moschino creative director] Jeremy Scott look alike. The video celebrates how boys and girls alike play with Barbie - it's all about self-expression, fashion, imagination and storytelling," the statement said.
Mattel said the commercial was created by them - but with Mr Scott calling the creative shots. The video is hosted on Moschino's YouTube page, not Barbie's.
It appears then that the stereotype-squashing credit belongs Mr Scott, who added a statement of his own.
"When I dreamt up the concept for the Moschino Barbie fauxmercial, I felt it was natural to have a little boy representing for all the little boys like myself who played with Barbies growing up," he wrote. "Barbie was more than a toy, she was a muse for me."
Blog by Jessica Lussenhop
Russians have taken to social media to demand retribution after an investigation determined that the crash of a Metrojet A321 airliner in Egypt last month was caused by a bomb.READ MORE.