Meet the woman in the American flag hijab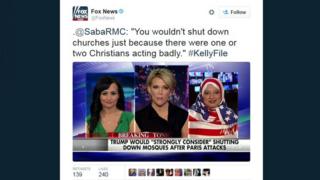 Amid rising anti-Muslim sentiment in the US following the Paris attacks, one woman made a public display of both her faith and her patriotism by donning a stars-and-stripes hijab on Fox News.
Saba Ahmed, the founder of the Republican Muslim Coalition, appeared on Megyn Kelly's news programme to defend Muslim Americans' right to worship and their constitutional right to free religion. She chose to exemplify her point by wearing a United States flag hijab.
"It was a last minute decision to wear it," Ahmed told BBC Trending. Ahmed originally planned to wear a purple headscarf, but was talked into the bolder hijab by the behind-the-scenes staff at Fox.
"The ladies dressing me said it was beautiful. I considered covering it with the purple scarf, but they said if you're going to make a statement, just go with it."
---
Follow BBC Trending on Facebook
Join the conversation on this and other stories here.
---
During the programme she faced off against a spokesperson for Donald Trump, who said that mosques in the US should be closed to prevent terrorism.
"The message we were trying to portray was that we are Americans, we are Muslims, we are Republicans. We need to be accommodated and accepted," says Ahmed.
Ahmed's choice of clothing caused a stir on social media.
Some praised her patriotism, writing "An American flag hijab is the most American thing I've ever seen."
Another wrote, "The woman who wore an American flag as a hijab on Fox News wins all the awards."
Others found it problematic, "Good grief. American soldiers died for that flag. It's not a freaking hijab."
However, others took the opportunity to point out how frequently the US flag is worn as a display of patriotism.
"If y'all allow American women to wear American flag bikinis/panties then a Muslim American woman wearing American flag hijab is a non-issue," said one Tweet.
The negative responses have not shaken Ahmed. Hate mail "just comes with the territory," she says. "A lot of people are ignorant about Islam, so lots of people on Twitter were upset."
Blog by Olivia Lace-Evans
Next story: Thousands declare 'Je Suis Chien' after dog killed in Paris raid
The death of police dog Diesel in a police raid in the Paris suburbs on Wednesday has inspired its own hashtag. But the tag's creator says he started it "to be a little bit funny."READ MORE
You can follow BBC Trending on Twitter @BBCtrending, and find us on Facebook. All our stories are at bbc.com/trending.