Thousands declare 'Je Suis Chien' and 'Je Suis Diesel' after dog killed in Paris raid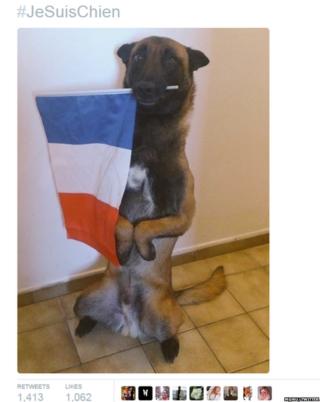 The death of police dog Diesel in a police raid in the Paris suburbs on Wednesday has inspired a Facebook page and a hashtag. But the tag's creator says he started it "to be a little bit funny".
Police targeted the flat in Saint-Denis in a search for the alleged mastermind of Friday's gun and bomb attacks in Paris, when 129 people were killed. During the raid, a woman blew herself up and a suspect was shot dead. Seven arrests were made and five officers were injured.
The French National Police's announcement that police dog Diesel, a 7-year-old Belgian Shepherd, was killed "by terrorists," sparked a big reaction online - retweeted 15,000 times.
It inspired a hashtag, "Je Suis Chien," (literal translation: I am dog) which borrows the language of the "Je Suis Charlie" solidarity hashtag. The "Je Suis Chien" tag has been used almost 130,000 times, with many people sharing messages of grief for Diesel in French and later in English. "Forever thankful to these creatures," wrote one user.
Later a new slogan, "Je Suis Diesel," was adopted. "Je Suis Chien should be Je Suis Diesel. He had a name! rest in peace, friend", said one Twitter user.
A "Je Suis Diesel" Facebook page has also been setup, which has garnered over 11,000 likes, where users grieved over the death of the police dog. Many have been uploading photos of their own pets.
Others using the "Je Suis Chien" tag made sarcastic comments about the death of a dog becoming a viral trend, and created memes - for example showing the hackers group Anonymous, which has vowed to disrupt so-called Islamic State social media activity, vowing vengeance for Diesel's killing.
BBC Trending found the user who seems to have first tweeted the hashtag. He told us his name was Ashley, that he is 24 and lives near Paris. "I wanted it to be a little bit funny because all the websites were about it," he says, referring to the prominence given to Diesel's death. "But many are using it seriously."
---
Follow BBC Trending on Facebook
Join the conversation on this and other stories here.
---
He told us he created the slogan to mock the proliferation of "Je Suis..." hashtags. "Every trouble has a hashtag like #JeSuis," he said. "If an old guy has something wrong, it will be #JeSuisOldGuy".
But he does not believe the response to Diesel's death has been disproportionate. "The dog is the human's best friend," he said. "It was an innocent," he added. "So a lot of people were disgusted by this".
Next story: 'We're just as shocked' - Muslim messages going viral after the Paris attacks
Muslims around the world have been uploading videos and messages to condemn the attacks in the French capital.. READ MORE
You can follow BBC Trending on Twitter @BBCtrending, and find us on Facebook. All our stories are at bbc.com/trending.