British Muslims react to report about their 'sympathy' for IS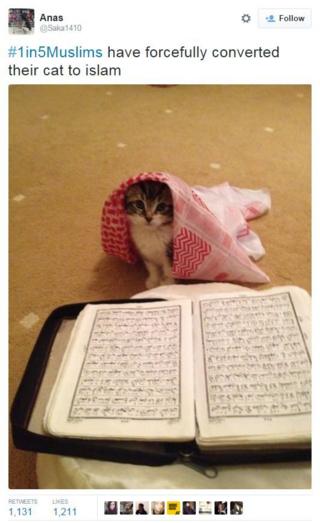 A British tabloid's assertion that a fifth of the country's Muslims have sympathy with Islamic State fighters has prompted a sarcastic reaction and a mocking hashtag on Twitter.
On Monday The Sun printed this headline on its front page: "1 in 5 Brit Muslims' sympathy for jihadis". According to a telephone poll conducted by Survation, 19.8% of respondents said they either had "some" or "a lot of" sympathy for young Muslims who left the UK to join fighters in Syria. The right-leaning newspaper's story stated that the respondents were expressing sympathy for those "who have fled the UK to fight for IS," or so-called Islamic State.
The paper spoke to prominent Muslims, who said the poll was a "wake-up call" and quoted one of the country's most prominent Muslim politicians, Labour MP Sadiq Khan, who said: "It is clear that Britain needs to take its head out of the sand."
Reaction in the rest of the British media was swift, with left-leaning papers attacking the survey's methodology and The Sun's interpretation. The Independent noted that the question was broadly phrased and the results were not similar to a poll of non-Muslims conducted by the same company in March - nearly 14% of respondents in that survey said they had some or a lot of sympathy with young Muslims travelling to Syria. The Mirror noted that the poll actual question did not use the word "jihadis", and that it referred generally to "fighters in Syria" and did not actually mention Islamic State.
The Sun is standing by its report and said the people surveyed were aware that the "fighters" meant Islamic State specifically. "If we cling to the fiction that IS have little or no support here we cannot begin to grasp why so many alienated British youths are seduced by its extremism and murder and why so many more openly promote it."
But online the headline sparked a hashtag - "1 in 5 Muslims" - that spread throughout the UK and to other countries, with many mocking the survey with jokes and made-up facts. A wide variety of people used it, including many British Muslims.
"#1in5Muslims have an uncle who could have got it cheaper for you," joked one user, while another tweeted: "#1in5Muslims get told to go back to their country 'Islam' every week."
---
Follow BBC Trending on Facebook
Join the conversation on this and other stories here.
---
The hashtag has been used more than 74,000 times and trended not just in the UK but also in Malaysia, Pakistan, Australia, Canada, India, Qatar, South Africa, the UAE and the US.
One of the accounts promoting the hashtag in the UK tweeted that "it was started to show The Sun they cannot scaremonger a community" and urged people to register a complaint with the Independent Press Standards Organisation. Reports on Tuesday said that the organisation had received more than 450 complaints, the most about a story since it was set up last year.
Blog by Samiha Nettikkara
Next story: A Muslim Marine's retort to Donald Trump
A former US Marine's tweet has inspired an online campaign by Americans who oppose the idea of a special ID card for Muslims. READ MORE
You can follow BBC Trending on Twitter @BBCtrending, and find us on Facebook. All our stories are at bbc.com/trending.