Thanksgiving with black families, and other families too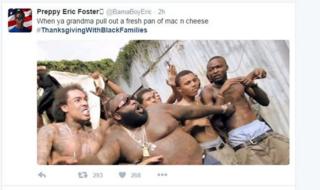 To celebrate Thanksgiving, witty observations and experiences about how the day is spent in African-American households have been flying around social media - with people from other backgrounds joining in the fun.
The hashtag "Thanksgiving with black families" has been tweeted more than 1.7 million times and has spawned a number of imitators. The trend has been driven by "Black Twitter" - a loosely defined term for users who use the social network to highlight their cultural identity.
The trend began Tuesday - two days before the Thanksgiving holiday - and has now triggered the alternatives dedicated to white, Mexican, Asian and Jewish families. Most of the tweets give insight into the cultural nuances of each community during family gatherings.
---
Follow BBC Trending on Facebook
Join the conversation on this and other stories here.
---
Thanksgiving has been celebrated as a US holiday since the American Civil War, but the roots of the harvest festival can be traced back to the country's colonial days. Most of the "Thanksgiving with..." hashtags focused on a range of stereotypes, although there were a few racially charged insults being thrown back and forth among the millions of tweets.
The conversation had echoes of the "Growing Up Black" tag, which was imitated all over the world back in July 2015.
Blog by Rozina Sini
Next story: Spray for Paris: Street art with a message of hope
In the aftermath of the Paris attacks, street artists have been paying tribute to the city's spirit...READ MORE
You can follow BBC Trending on Twitter @BBCtrending, and find us on Facebook. All our stories are at bbc.com/trending.