Celebrating St Andrew's Day - with the Romanian flag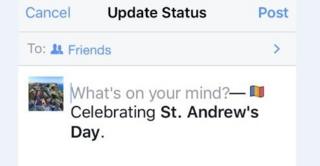 Scottish Facebook users responded with a mix of bafflement and outrage when the social network apparently suggested people celebrate St Andrew's Day - with the flag of Romania.
Facebook encourages users to update their status to show friends they are celebrating events such as birthdays and national holidays. The flag suggestion does actually make sense - St Andrew is a patron saint of Romania and several other countries, including Greece, Russia, Ukraine and Poland.
The hashtag #StAndrewsDay has been trending in the UK as people send each other good wishes on social media - on Twitter, more than 16,000 people used the hashtag on Monday. However, Scottish users wanting to mark their national day on Facebook tweeted that they were only given the Romanian option, rather than the blue-and-white Saltire. An option featuring the Saltire, Scotland's national flag, was later made available.
---
Follow BBC Trending on Facebook
Join the conversation on this and other stories here.
---
Meanwhile Google - in the UK at least - has chosen to mark the day with an animated doodle that focuses very clearly on Scotland. It shows the Loch Ness Monster appearing out of the Saltire and giving a wink before disappearing again.
BBC Trending contacted Facebook, who admitted the wrong flag was used.
"For a short period of time, the incorrect flag was used as the icon for people who said they were celebrating St. Andrew's Day on Facebook.
"This was due to a technical error and has since been fixed to show the Saltire."
Blog by Diana Rusk
Next story: Campaigners target online trolls by putting their comments on billboards
Brazilians who post racist abuse online may see their words blown up and pasted onto billboards near their houses. READ MORE
You can follow BBC Trending on Twitter @BBCtrending, and find us on Facebook. All our stories are at bbc.com/trending.