Is it OK to use family and friends to crowdfund your wedding?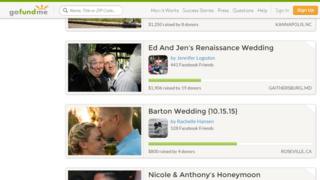 You're in love. You've found the one - or rather, The One. You've popped the question, and to your utter joy, they've said "yes".
Now how are you going to pay for the wedding?
In recent years crowdfunding has become a hugely popular method of collecting money for everything from charity campaigns to new businesses, and now it's becoming increasingly popular for nuptials. But just as everyone has at least one opinion about whether it's OK to wear white, how many people should be invited, and who gets included in the photos, the idea of asking for money from friends and relatives in order to fund a wedding provokes fierce opinions.
Popular crowdfunding site GoFundMe has hundreds of active listings under its "Newlyweds" category. While the site says it's not one of the most popular categories, nearly $4 million (£2.6 million) has been raised across more than 4,000 campaigns. Many are devoted to honeymoons - generally posted by couples who eschew gifts and ask for cash donations to fund romantic travel instead. But a cursory examination shows that many, if not most, are pleas for cash to fund wedding ceremonies and receptions. That's right: these are people are asking for money to pay for the bit of the wedding that has traditionally been funded by the couple or their parents.
Not everyone is impressed.
"Why crowdfunding your wedding is not OK," says one headline on a specialist wedding site. A wedding planner writing for the Huffington Post put an even sharper point on it: "Don't Even THINK About Crowdfunding to Pay for Your Wedding."
---
Follow BBC Trending on Facebook
Join the conversation on this and other stories here.
---
But what response do couples get if they ignore such advice and ask for cash online?
"A lot of our married friends suggested that we elope, or just do a courthouse wedding, saying that if they could do it all over again they wouldn't have spent all that money," says Tracy Rudzinski, who married her husband Steve in Pittsburgh in November. "But I really wanted to throw a big party for all of our near-and-dear friends to be there and celebrate with us on that magical day."
Tracy says she and her husband had been living together for about a year before the wedding and didn't need "towels or fancy china". The couple, who work in film and theatre, raised about $1,400 of their $5,000 goal but still managed to put on their dream Disney-themed costume wedding. (Unlike some other crowdfunding sites, GoFundMe users keep all the money pledged regardless of whether their campaign reaches its goal.)
"I have to say I was surprised, I thought more people would be shocked at the nerve of us to ask for money," Tracy says. "But really, the only people who tried to keep insisting we needed a registry were my grandparents, because that was unheard of in their day."
One couple who did manage to raise their goal amount - and then some - is Patrick LeMaster and his husband Brent, who collected more than $4,500 after asking for $3,800 from friends and family.
The money went towards a wedding and reception at a Chicago art gallery. Patrick says he was initially reluctant to go down the crowdfunding route.
"Publicly asking for money is not my type of thing," he says. "It was actually quite a surprise to see donations come in from certain people… Many from close friends and family, but some from people that I'd more consider acquaintances. It was humbling and thrilling at the same time to see their support, both big and small, and it very much said something to me about the character and generosity of people."
Most of the couples contacted by BBC Trending didn't get much flack for asking their nearest and dearest for wedding funds. When Tane Maire and her husband Solomon raised funds online, one relative cited tradition and insisted that the bride's family should pay for the event. Although Maire's father and other relatives contributed, her online campaign drew wider support, about a dozen contributors in total.
"I think most people who knew about the wedding and the fund were so happy we were FINALLY getting married that we didn't get too much feedback on how we were paying for it," she says - the couple had been together for a decade before getting hitched.
"I definitely think younger people are way more accepting of how we raised the money," she says. "Though I will say my parents were supportive of the idea, as were his parents."
The couple raised more than $2,000 - enough she says for a "small intimate" celebration. "I think almost everyone who went to our wedding told us afterwards how perfect it was for us," she says.
Blog by Mike Wendling
You can follow BBC Trending on Twitter @BBCtrending, and find us on Facebook. All our stories are at bbc.com/trending.