'The signatories believe Donald J Trump should be banned from UK entry'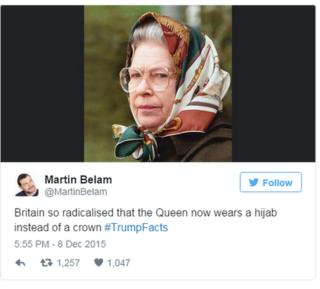 Donald Trump's claim that parts of London are "so radicalised the police are afraid for their lives" was roundly condemned by British politicians of all sorts. At the same time, there has been a surge of signatures on the British Parliament's petitions page calling for the Republican frontrunner to be banned from entering the UK.
A petition on the UK Parliament's website calling for Trump to be banned from entering the country attracted more than 100,000 signatures in about a day - a number that climbed to more than 400,000 by early Thursday - making it eligible to be considered for debate in Parliament. "The signatories believe Donald J Trump should be banned from UK entry," it says, and calls for Trump to be excluded because of "hate speech".
"If the United Kingdom is to continue applying the 'unacceptable behaviour' criteria to those who wish to enter its borders, it must be fairly applied to the rich as well as poor, and the weak as well as powerful," states the petition, which was reportedly drafted by Suzanne Kelly, a woman who opposed Trump's development of a golf course in Aberdeenshire. The petition is getting heavy support from Aberdeenshire and surrounding areas in Scotland, as well as London and other major UK cities, according to a map on the Parliament website.
Could Donald Trump be banned from the UK?
Labour home affairs spokesman Jack Dromey and Green Party leader Natalie Bennett have backed the petition to ban Trump from entering the country, with Conservative MP Sarah Wollaston saying the proposal merited "serious discussion".
The Home Office has powers to ban speakers from overseas coming to the UK under the "unacceptable behaviours or extremism exclusion policy".
Last year, Home Secretary Theresa May said she had excluded "hundreds" of people.
People banned from entering the UK under the exclusion policy in recent years include leaders of the Westboro Baptist Church, Islamist preachers and Ku Klux Klan officials, and two anti-Muslim bloggers.
Meanwhile on Twitter, many mocked the Republican frontrunner for his comments about "radicalised" neighbourhoods. The hashtag #trumpfacts was trending in London overnight Tuesday, with nearly 30,000 messages, most of them poking fun at the candidate. One of the most widely shared tweets was a picture of the Queen wearing a headscarf (above). And of course, both wordplay and Photoshop were heavily deployed:
---
More on this story
21 things that Donald Trump believes
Trump's 'Muslim shutdown': How the internet reacted
Police 'afraid' in 'radicalised' London
---
Blog by Mike Wendling
Next story: What Chinese are saying about smog - despite the online censors
As Beijing, blanketed with dense smog, has taken on an eerie appearance, social media users are sharing photos and jokes - but not all of them have made it past Chinese censors.READ MORE
You can follow BBC Trending on Twitter @BBCtrending, and find us on Facebook. All our stories are at bbc.com/trending.