Why did a journalist post fake pictures of anti-IS fighters?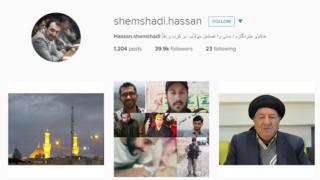 An Iranian journalist has been criticised for allegedly publishing misleading images on Instagram of Iranian troops battling Islamic State. The photos actually appear to be years old - and have surfaced previously in the conflict between Russia and Ukraine.
Hassan Shemshadi, who works for Iran's state-run IRIB news service, has built a reputation for breaking news of Iranian soldiers killed abroad on his Instagram account.
Iran, a backer of both the Syrian and Iraqi governments, has been sending troops and high-ranking commanders to both countries to bolster the fight against so-called Islamic State (IS).
Shemshadi's announcements of the dead tend to glorify them in the same way the rest of the state media does: presenting their deaths as a cause for celebration and the attainment of a dear wish, namely dying for their country, Islam, and the fight against terror.
Domestically, Iranian fighters are described as "defenders of the holy shrines" - a reference to revered Shia Muslim sites in places like Karbala and Najaf in Iraq, and Damascus in Syria, which Iranians see as under threat from IS. The group has destroyed Shia shrines in areas it controls.
Hassan's portraits of fallen fighters frequently contain images of flowers and clouds, as well as pictures of shrines
But Shemshadi's reporting was called into question when, on 8 December, he posted images of two soldiers covered in snow, and urged his followers to remember "dear ones who are at the front of the fight against the terrorists".
Instagram users soon pointed out the pictures appeared to be Ukrainian soldiers: "You dishonest liar!" said one. "It seems that telling lies and circulating fake reports is in the DNA of the state broadcaster," commented another.
Another poster warned: "Iranians get true news from you. Try not to undermine this trust."
The images of the fighters in the snow have been used to illustrate stories from other Iranian news sources since October 2014. But the pictures also circulated on Ukrainian social media last winter, as evidence of the dire conditions soldiers there faced.
Even then there were questions about their authenticity, with one hoax debunking website suggesting they were photos of Russian soldiers training for special missions. Whatever their origin, they certainly appeared on a VKontakte community page for Russian special forces even earlier, in 2013.
Caught out, Shemshadi quickly apologized, but also defended his post, saying he only intended to remind Iranians - currently the country is experiencing a cold snap - of the hardships Iran's soldiers face.
"Nowhere in the post do I say the photo is of defenders of holy shrines," he said. "In case some people are under the impression that the post and photo harboured any inappropriate or improper motives, I apologize most sincerely and declare this an incorrect interpretation."
His supporters took up his argument. One argued: "It does not matter where the photo came from. What matters is that the fighters are sacrificing their own comfort to protect Islam and defend the oppressed."
But others remained critical. "Sadly I was not convinced," one said.
The number of Iranian soldiers reported killed abroad has increased in recent weeks and it is not just soldiers from the elite Quds force, which deals with foreign missions, being killed, but those from the wider Iranian Revolutionary Guard Corp and some of its top generals.
Blog by Tse Yin Lee
Reporting by BBC Monitoring Iran and BBC Monitoring Kiev
Next story: 'Whites Against Trump': the slogan coined by a black comedian
Americans on social media have been tweeting and posting using the hashtag "Whites Against Trump". But the man who inspired the slogan is actually an African-American comedian.READ MORE
You can follow BBC Trending on Twitter @BBCtrending, and find us on Facebook. All our stories are at bbc.com/trending.