'Whites Against Trump': the slogan coined by a black comedian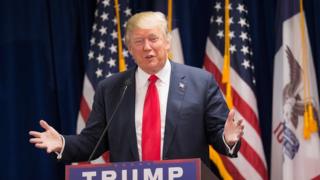 Americans on social media have been tweeting and posting using the hashtag "Whites Against Trump". But the man who inspired the slogan is actually an African-American comedian.
The phrase first found its way to Twitter in early December when Seattle musician Heather Bentley, who is white, tweeted her pointed thoughts about the Republican frontrunner:
Although Bentley came up with the hashtag, she told BBC Trending how the idea behind it was inspired by a Facebook post written by a black comedian.
"When I read a post by W Kamau Bell asking for white people to step up, it was like a reflection in the mirror and that I should do something," she says. "People like me try to refrain from calling themselves white as it's tinged with racism. A lot of white people I know don't want to go in the direction Trump is aiming for. I thought that if I tweeted the hashtag, it would mean something different coming from a white person than a person of colour."
Bell's original post called Trump a "white people issue" and argued that black people criticise black politicians and celebrities they disagree with, and white people should do the same. After Tuesday night's Republican presidential debate, the "Whites Against Trump" term picked up new steam and hit Twitter's list of top trends.
"The whole point of #WhitesAgainstTrump was that everyone needs to get in on this fight," Bell told Trending. He says the tag was aimed not at Republicans or Trump supporters but rather to liberals and Trump opponents.
"I'm talking to the white people who claim to be my allies that it is time for them to step up and stop sitting on the fence," he says. "I'm a left liberal progressive and I was calling out on the left to act - it wasn't an attack on the right."
The term has been used about 70,000 times this week. Many of those messages have been supportive. "Radical extremism of any ethnicity spouted by a man who's proud to call himself white is our biggest shame," tweeted Cam Kirkwood.
Others questioned the slogan's effectiveness and pointed out that many of the tweets using the tag weren't actually posted by white people. "#WhitesAgainstTrump appears to be only blacks talking about how they're happy some whites are against him," commented Geollnyz. And Trump supporters also got involved to defend their candidate. "How come all the ppl black and brown?" tweeted iamboingist, who also cited Trump's campaign slogan: "Real white people want to #MakeAmericaGreatAgain."
Blog by Andree Massiah
Next story: How are Pakistanis remembering the victims of the school attack?
Pakistanis are sharing poignant messages and stark images one year after the attack on the Army Public School in Peshawar. READ MORE
You can follow BBC Trending on Twitter @BBCtrending, and find us on Facebook. All our stories are at bbc.com/trending.