Netflix documentary leads to debate about convicted murderer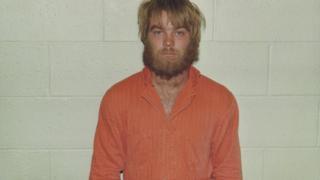 SPOILER ALERT
A campaign to pardon Steven Avery, a convicted murderer and main subject of the Netflix documentary series Making a Murderer, has gathered hundreds of thousands of supporters.
If you haven't seen it yourself, you may have seen friends' posts about it on your Facebook and Twitter feeds. Making a Murderer is a documentary series that focuses on the story of one man - Steven Avery - wrongfully imprisoned for sexual assault for 18 years before being exonerated in 2003, but then convicted of murder in 2007 in a separate incident, a crime for which he remains behind bars.
Social networks have come alive with chatter about the programme. The hashtag "Making A Murderer" has been used almost 250,000 times on Twitter since the series came out. And some viewers have taken a strong stance on the case. A smaller hashtag "Free Stephen Avery" has been used more than 10,000 times in the same period, and even more are signing two petitions set up calling for him to be pardoned.
---
Follow BBC Trending on Facebook
Join the conversation on this and other stories here.
---
The first, entitled simply Free Stephen Avery was created by Michael Seyedian from Colorado. Started two weeks ago, it has soared past 250,000 signatures, most of those coming in the last 48 hours. Seyedian says that after watching the documentary he believes Avery was the victim of "an abomination of due process", and calls on President Obama to issue a pardon. Some of those tweeting about the petition are less strident. "I cannot say w/ absolute certainty that he is innocent, but the state should have the decency to grant him a retrial," reads one.
Another petition on the White House website calls for both Avery and Brendan Dassey, Avery's nephew who was also convicted for being a party to the murder, to be pardoned by the president, and has amassed 65,000 signatures.
The documentary was made over a ten year period by filmmakers Moira Demos and Laura Ricciardi, and has of course proved controversial. Some argue they downplayed aspects of Avery's criminal past, to paint him in a more sympathetic light.
Ken Kratz, the prosecutor in the murder trial told Vocativ that the series painted him "as a villain". He claimed the documentary was biased, and didn't present the viewers with all the evidence from the trial.
"The people who have vilified me have not taken the time to find out the evidence they weren't spoon fed," he said.
But filmmaker Demos told Hollywood news site The Wrap: "We tried to choose what we thought was Kratz's strongest evidence pointing toward Steven's guilt, the things he talked about at his press conferences, the things that were really damning toward Steven. That's what we put in. The things I've heard listed as things we've left out seem much less convincing of guilt."
Meanwhile, Avery's defence lawyers Dean Strang and Jerome Buting, who argued that Avery was framed by the police, have been celebrated by viewers online. Actress Kristen Bell even tweeted a piece of fan art featuring the pair that has been shared almost 10,000 times.
Blog by Sam Judah
Next story: Did this politician's watch cost more than his car?
A public display of patriotism by a Russian politician buying a Lada car backfired - as many focussed on what seemed to be a luxury Swiss watch instead. READ MORE
You can follow BBC Trending on Twitter @BBCtrending, and find us on Facebook. All our stories are at bbc.com/trending.