'To cut diplomatic ties, press 9' - and other Iranian jokes about tension with Saudi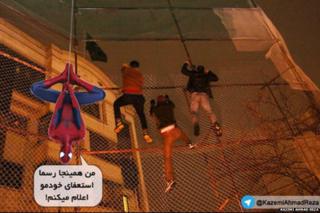 How are Iranians dealing with the rising tension between their country and Saudi Arabia? In many cases, through jokes.
Tensions in the region have been rising for several days, since Saudi authorities executed prominent Shia cleric Nimr al-Nimr. Iran's leaders condemned it; then the Saudi embassy in Tehran and its consulate in north-eastern city of Mashhad were stormed; then, Saudi Arabia and other states suspended diplomatic ties with Iran.
Online, the Iranian public have responded to numerous political and social upheavals in the country by expressing their sense of humour - a way of venting anger and in some cases distancing themselves from official actions.
So here are some of the top jokes currently doing the rounds among Iranians on social networks and mobile messaging apps like Telegram.
'To cut diplomatic ties, press 9'
The number of countries cutting ties with Iran has led some to think - well, you've gotta laugh.
One popular joke shared on Telegram was: "A new option has been added to the Foreign Ministry's telephone number [when you dial for queries]… to cut diplomatic ties please press 9".
"Is there anyone to cut ties in support of Iran?!... what a foreign policy we have?!" another user wondered.
"I slept for few hours and when I woke a few countries cut ties with us. I don't even dare to take a nap now!", a Twitter user said after Saudi Arabia, Bahrain, Sudan and Djibouti severed ties with Iran.
When Djibouti cut ties with Iran, many Iranians joked that they didn't know much about the country.
"One good thing that the snapping of ties with Saudi Arabia taught me is geography. At least now I know where Djibouti is", a joke on Telegram reads.
"Americans learn geography by attacking countries, Iranians learn geography by cutting relations with countries", says a Twitter user. However, others responded to these jokes by reminding fellow Iranians that Djibouti's location on oil routes gives it a strategic importance in the region.
Jokes about storming embassies
There were lots of jokes about the storming of foreign embassies, with many people implying that supporters of the clerical establishment had encouraged it.
"Have you climbed any embassy walls in the past 5 years? - New question to be added to visa application forms [for those applying from Iran]", a joke on Facebook reads.
Another sarcastic comment doing the rounds on Telegram reads: "Please leave some embassies for the future generations. They also have the right to seize embassies! There are embassies but there are not that many!".
Another joke comes from a doctored photo of the British embassy in Tehran, which was attacked by crowds in a separate incident in 2011. The photo shows a banner on the wall of the diplomatic mission saying "If you need anything climb up. If you don't, come down let others climb".
This joke references the popular charity drive, recently started in Iran and it is known as "the wall of kindness" where people donate clothes to the homeless. As BBC Trending reported, these walls have signs asking people to donate or take based on what they need.
A tricky flag to burn
Many Iranians online also had a hearty laugh at the expense of those who attacked the Saudi consulate in the city of Mashhad.
The crowd there removed the building's Saudi flag, which presumably was supposed to be either burnt or trampled on. However, it appears the attackers realised that they were not able to deface it due to the sacred words on the flag. A photo on of a man cutting those words off the flag using a pair of scissors, while a police officer curiously craning his neck to have a look , is also among the popular topics of discussion.
Many have questioned the performance of the police with regard to the both the attacks in Tehran and Mashhad, accusing them of being lenient.
Of course, humour has not been the only reaction by Iranians on social networks. People shared their views, with many pleased at the severing of relations with Saudi Arabia and its allies, while some sounded concerned at the prospect of Iran becoming isolated again after the country's politicians managed to strike a deal with world powers over Tehran's nuclear programme..
Next story: The latest codeword used to beat China's internet censors
It's one of the most common surnames in China - so why do Chinese internet censors suddenly have a problem with the word "Zhao"? READ MORE
You can follow BBC Trending on Twitter @BBCtrending, and find us on Facebook. All our stories are at bbc.com/trending.