President Obama's tears prove as controversial as gun policy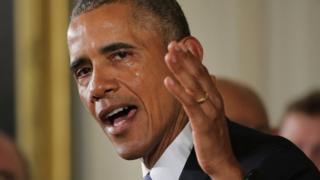 President Barack Obama wept at a press conference announcing a new executive action on gun control. American reacted as much to his emotion as they did to his proposals.
On Tuesday afternoon, President Obama announced an executive action designed to expand background checks for gun purchasers without the approval of Congress. He cited a string of recent mass shootings in the US as the reason for exercising this power, and criticised Congressional "inaction" on the issue.
The speech reached an emotional apex when the president mentioned the 2012 shooting in Newtown, Connecticut, that claimed the lives of 20 children.
"Every time I think about those kids it gets me mad," he said as tears streamed down his face. "And by the way, it happens on the streets of Chicago every day."
This is not the first time Obama has cried publicly over the incident, but the online reaction to his tears was as swift as it was varied.
Some Twitter users hailed the moment as "powerful", "legit & sincere" and "President Obama at his best, imbued with heart and emotion".
New York Times columnist Nicholas Kristof agreed, tweeting, "We should all be crying about 32,000 American gun deaths a year."
On the other hand, the National Rifle Association released a statement condemning the president's proposals and calling the speech an "emotional, condescending lecture". Plenty of gun rights supporters agreed - "crocodile tears" was a popular characterisation on social media.
"What a clown, putting on a show for all of America to fall for," wrote one commenter on Facebook.
Other critics went even further, suggesting that the emotional display showed that Obama is "pathetic, weak and dishonest".
Still others argue that reactions to the tears ignore the real issue - Obama's actions on gun control.
"A lot of my friends on the right will call Obama's tears 'crocodile tears' today, but the problem isn't sincerity... it's that he's wrong," wrote one.
Blog by Jessica Lussenhop
Next story: Netflix documentary leads to debate about convicted murderer
Hundreds of thousands are discussing the fate of Steven Avery online. READ MORE
You can follow BBC Trending on Twitter @BBCtrending, and find us on Facebook. All our stories are at bbc.com/trending.