China's patience with 'Kim The Fat' wears thin after H-bomb test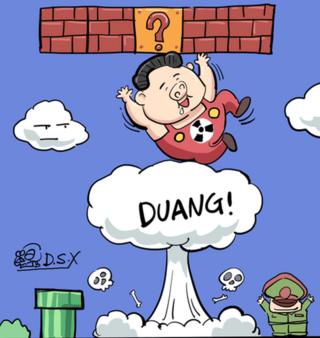 "Our Neighbour is a nut, a nut with a weapon."
That's how one irate Chinese social media user responded to North Korea's claims to have detonated a hydrogen bomb, in a location not too far from the border between the two historical allies. The comment is typical of a large swathe of recent Chinese internet postings.
The two countries are so close that this kind of comment isn't always tolerated by censors. At one time it would have been unthinkable for China to allow such open insulting criticism of Pyongyang.
But this comment posted on Sina Weibo, China's equivalent of Twitter, by a user called kklpoo has remained uncensored and received more than 3000 likes.
Relations between the two nations have been strained for some time. And in recent days, matters have reached a new low as China didn't even receive any advance warning of the test.
The hashtags "Fourth Korean Nuclear Explosion" and "Another DPRK Nuclear Test" have been trending with tens of thousands of users employing them to express their exasperation.
---
Follow BBC Trending on Facebook
Join the conversation on this and other stories here.
---
Such is the strength of many Chinese people's anger that in both official state media and social media, it seems to be open season for attacks on North Korea and in particular its young leader Kim Jong-un.
What is also striking is that censors are also allowing people to make some barbed criticisms of China's own government, over the issue.
Many users have accused officials in Beijing of being too indulgent to North Korea and demand tough action.
One cartoon posted on Weibo depicts Kim Jong-un as a character in a video game using the power of a hydrogen bomb cloud to bounce high enough to snatch golden coins. The caption reads: "What does Kim the Fat want this time?"
The sentiment behind it is a popular feeling that North Korea is very good at using its erratic behaviour to milk China for economic assistance.
'Breeding a virus'
Others have been more direct in taking the Chinese government to task. One Weibo user received more than 1000 likes for a post which said: "The heavenly kingdom [China] is still protecting this thug. We should be ashamed that the heavenly kingdom is still protecting this thug, we should be ashamed."
Another Weibo user, Han Zhiguo posted a map showing the proximity of the bomb test site to China. He compared the toleration of North Korea's behaviour to the breeding of a "virus" which could one day do great harm to China.
So why do China's censors seem relatively relaxed about allowing the public to vent their feelings in this way?
Vincent Ni of the BBC Chinese Service says: "Chinese censors seem to be quite tolerant in allowing people to use social media to criticise their government for not doing more to try to tackle North Korea. This is probably because these comments reflect a debate that is going on within the Chinese leadership about how to deal with the young leader in North Korea."
Relations have been on the slide since North Korea's first nuclear bomb test under Kim Jong-un in 2013, which was followed by other incidents such as killing of Chinese citizens along the border for which North Korea was blamed.
Blog by Nooshin Soluch
Report by Kerry Allen, Monitoring
Next story: Q: Does Donald Trump think Paris is in Germany? A: Probably not
Could it be that those those making fun of the latest Donald Trump tweet have themselves got it wrong? READ MORE
You can follow BBC Trending on Twitter @BBCtrending, and find us on Facebook. All our stories are at bbc.com/trending.