Q: Does Donald Trump think Paris is in Germany? A: Probably not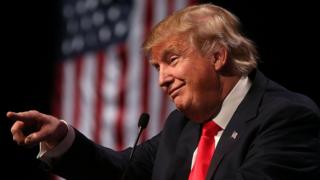 Could it be that those those making fun of the latest Donald Trump tweet have themselves got it wrong?
Republican presidential candidate Donald Trump has shocked and - let's face it - delighted many of his critics with several controversial tweets and gaffes. At first glance he appears to have done it once again today, this time with a single tweet.
Within an hour of posting a message about a man shot in Paris, before concluding that "Germany is a mess," the phrase "Paris is in Germany" was one of the top Twitter trends in the world.
But wait. Here's what he actually said.
You can understand the confusion. At a glance, many of those commenting seemed to think "The Donald" appeared to have his European geography more than a little mixed up. But could a man attempting to become president of the United States really think Paris, capital of France (you're welcome), is in Germany?
That's certainly how large swathes of those commenting from the UK and the rest of Europe took it.
"Current state of the world: America seriously considering electing man who thinks Paris is in Germany," said one, "American people, GET SMART! Don't vote for a jerk who thinks Paris is in Germany!". The phrase appeared more than 10,000 times in the two hours following Trump's post.
---
Follow BBC Trending on Facebook
Join the conversation on this and other stories here.
---
But did Trump really confuse two of the most powerful countries in Europe?
Many people soon got involved to say it was these critics - not Donald Trump - who'd messed up. "Guess I'm the only one that understood he wasn't implying Paris is in Germany, he was voicing two separate thoughts," said one user. Several others agreed, suggesting that Trump was simply squishing two ideas into the same tweet, and that in the third sentence he was referring to the events in Cologne on New Year's Eve.
And the conversation soon descended into farce, to the point where it was no longer clear who was serious, and who was joking. But of course, the jokes came thick and fast.
For his part, Donald Trump has tweeted three times since the original post, but not addressed the thousands of comments.
Next story: Mayor unrepentant over 'unforgivable' Three Kings parade changes
An attempt by the mayor of Madrid to modernise a parade for a Spanish Christmas festival has provoked a furious online reaction from traditionalists. READ MORE
You can follow BBC Trending on Twitter @BBCtrending, and find us on Facebook. All our stories are at bbc.com/trending.