'Creepy' pick-up artist ad is not what it seems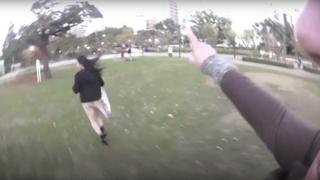 An advert which shows young women recoiling in horror from somebody who is using your product may not seem like an obvious marketing strategy.
But it's one that's helped a promotional video for a new portable translation device to amass more than five million views online. Many of those who've seen it have dubbed the ad "creepy" and accused its star - an Englishman called "Dean" - of sexually harassing the young Japanese women who appear to be his reluctant co-stars.
Now the company's CEO has admitted to BBC Trending that the scenes were all staged, and the women were actresses.
The gadget itself, called ili, seems pretty smart. The small handheld device translates what you say, and repeats it through a speaker in a language of your choosing. Maybe one day the United Nations will be handing them out to help promote global peace and understanding. But that's not how the ili is being sold.
In the advert Dean takes the device out on the streets in Japan - where Logbar, the firm behind the gadget is based - and uses it as an icebreaker with a series of young female strangers. He tells them they're beautiful and asks for kisses. He sniggers when they push him away and in one scene even chases a woman through a park shouting "Hey, just one kiss". Another woman appears to hit him with her handbag and flees when he doesn't seem to be getting the message in any other language.
But others appear to be charmed by Dean's cheesy chat up lines. And in the final scene he gets his girl by reassuring her that "no-one's looking" - even though their kiss is being filmed by a second camera nearby.
Many have noted that the video is reminiscent of the footage that emerged last year that led to a campaign to ban Julien Blanc from a number of countries around the world. "In Tokyo, if you're a white male, you can do what you want," the "pick-up artist" was filmed telling his audience, before showing a video of himself grabbing Japanese women in the street.
Reposted to Facebook, the advert for ili has been watched more than five million times, and the reaction to the ad has been scathing - even from some of those who are impressed by the ili's performance. "Fantastic! Now you don't need to learn another language in order to sexually harass strangers in other countries," and "What a creep. He was literally chasing after women. That's horrifying!" read two comments. "Why force the girls to kiss you. Can't see their body language says no!" asked another viewer.
---
Follow BBC Trending on Facebook
Join the conversation on this and other stories here.
---
There has been some speculation online about whether the scenes were actually real. But most viewers appear to have taken the video at face value. The Guardian took the precaution of blurring the faces of the women involved to protect their identity.
But in an email to BBC Trending, Logbar's CEO Takuro Yoshida has said that the scenes were all staged.
"The promotional video in question was created with an intention to showcase the effectiveness of the translation device. The women are all actresses and were instructed to act the way they did. No one was forced to do anything against their will."
Of course, we then asked what the thought process behind the advert had been. Did Logbar deliberately set out to outrage in order to stir up publicity? Or were they surprised by the reaction that the video provoked? Maybe something got lost in translation, but we're still awaiting a response.
Next story: A horrific crime has gripped and appalled South Africa. But it was all made up.
A horrific crime has gripped and appalled South Africa. But it was all made up. READ MORE
You can follow BBC Trending on Twitter @BBCtrending, and find us on Facebook. All our stories are at bbc.com/trending.