Twitter campaign to get all France wearing Jewish skullcaps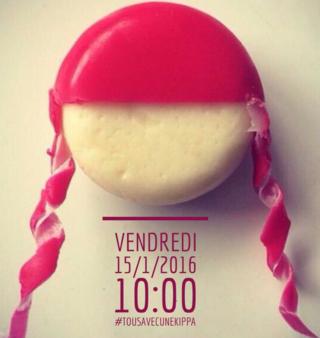 A call for French Jews to remove their skullcaps to make themselves less vulnerable to attack has provoked a social media campaign calling for more or less the opposite.
Using a hashtag #TousAvecUneKippa (Everyone with a kippah), thousands are calling on French people of all backgrounds to don the traditional Jewish skullcap and post a selfie on social media this Friday in a show of solidarity against anti-Semitic attacks.
Earlier this week Zvi Ammar, the main Jewish leader in the French city of Marseille urged men to stop wearing the skullcap, "to avoid being identified as Jewish". He said the "exceptional measure" was needed to protect Jewish lives. The advice was given in direct response to a violent anti-Semitic attack on a teacher. On Monday Benjamin Amsellem - who was wearing a skullcap at the time - was attacked with a machete and left with an injured shoulder and hand. A 15-year-old boy has appeared in court charged with the attack. Prosecutors say he claimed to have carried out the crime out of loyalty to the so-called Islamic State.
France's president, Francois Hollande, has already called the idea that Jewish people should need to hide their identity "intolerable". And now social media users in the country are trying to turn the idea on its head, by calling for everyone to wear a kippah on Friday.
Many posted pictures of both Jewish and non-Jewish celebrities wearing skullcaps as a form of encouragement.
---
Follow BBC Trending on Facebook
Join the conversation on this and other stories here.
---
The campaign was started by two French women, Sophie Taieb, who is Jewish, and Kerima Mendes, who is not. Taieb tells BBC Trending she hopes it acts as an antidote to the sombre tone following the anniversary of the Charlie Hebdo shooting, and the Marseille attack.
"We wanted to do something funny. There was black everywhere, so we wanted to do something funny," she says. "The idea is that everybody - Jewish or not - should wear a kippah, because if everybody wears one, nobody is a target anymore." As a woman, Taieb won't be wearing a kippah, but says she will cover her head is some way and post a selfie, and encourages other women to do the same.
But her friend Kerima has already posted a selfie wearing a kippah with a caption that said she was quite prepared for people to post their comments and insults. Others soon began to play around with the idea, posting photoshopped pictures and, of course, cats wearing kippahs.
France's 500,000 Jewish population is the third largest in the world, behind Israel and the United States. Anti-Semitic attacks are rising across the country. But France's chief rabbi, Haim Korsia, has rejected the notion that Jews should make themselves safer by taking off their skullcaps. "We should not give in to anything, we will continue to wear the kippah," he said.
Next story: 'Creepy' pick-up artist ad is not what it seems
An ad in which an Englishman appears to use a translation gadget to pester Japanese women for a kiss provoked online outrage. Now the makers have told the BBC it was all staged. READ MORE
You can follow BBC Trending on Twitter @BBCtrending, and find us on Facebook. All our stories are at bbc.com/trending.