Gaza medics back striking English junior doctors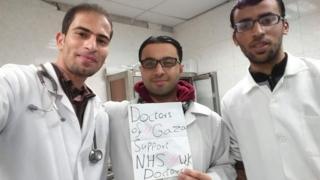 When junior doctors in England went on strike, photographs of support spread on social media from celebrities, members of the public, their pets - and doctors from Gaza.
While images of Martin Freeman, Noel Edmonds and a rather large cat might have caught many people's eye, images of three young men in white coats in a Middle Eastern hospital stood out.
They were posted on Twitter by Dr Mohammed Ziara, who told BBC Trending he was a recently graduated doctor from Gaza, who had completed his studies six months ago.
The photograph of Dr Ziara has had more than 240 retweets and 200 likes since it went up on Tuesday.
The 24-year-old says he now works for the Palestinian Ministry of Health as an internship junior doctor in Shifa Hospital, the main hospital in Gaza.
He said: "I do have a lot of friends and followers in UK and I noticed some of them joined the protest of junior doctors there to save the National Health Service.
"As I am a junior doctor with the same profession, I decided to stand in solidarity with junior doctors of the UK in their rightful strike.
"I have never been to the UK before, but I know a lot of doctors there as yearly there is a doctors' delegation from the UK, who come with help from Doctors Without Borders and Medical Aid for Palestinians, to train junior doctors in Gaza and help with some advanced surgeries."
---
Follow BBC Trending on Facebook
Join the conversation on this and other stories here.
---
Tuesday's 24-hour strike by junior doctors in England was over a new contract that the government is trying to introduce. The Health Secretary Jeremy Hunt has described the industrial action as "completely unnecessary" and urged junior doctors to return to negotiations. But another 48-hour walkout is planned for 26 January.
Dr Ziara said he was "so happy as my pictures got a lot of retweets and shares on Twitter and Facebook".
He added: "Since I published the pictures I received a lot of messages from friends and people I don't know, thanking me for joining the protest.
"We are one profession and we stand for each other."
He said his two colleagues, who also appear in the photographs, were Dr Hasan Mustafa and Dr Mohammed Abu Selmia, who both work as junior doctors in Shifa Hospital.
He said they were "very happy and excited to stand in solidarity" with their counterparts in England.
Dr Ziara, who also describes himself as a human rights and social media activist, said the UK had always been "on top of my list to do my specialisation programme in surgery".
He added: "I hope someday I can get into the UK and work there as a doctor."
Blog by Mario Cacciottolo
Next story: The Twitter murder that never happened
A horrific crime that came to light in a series of tweets that gripped a nation. But it was all made up.. READ MORE
You can follow BBC Trending on Twitter @BBCtrending, and find us on Facebook. All our stories are at bbc.com/trending.