Why should you be more like Bill?
BBC Trending
What's popular and why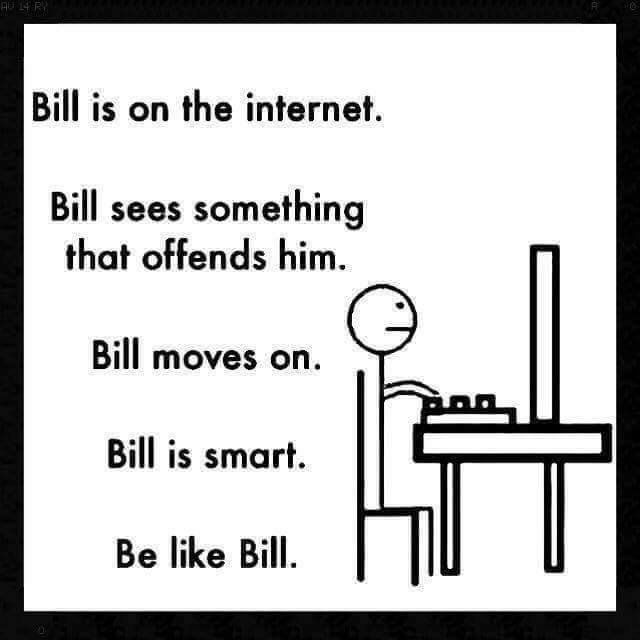 Bill who? No not Gates, Clinton or Cosby. Meet Bill, the stick man whose good example is taking the internet by storm.
"Be like Bill" urges the meme that is clogging up Facebook timelines with tongue-in-cheek advice about the correct way to behave online or how to handle other questions of modern etiquette.
Bill is far too polite to tell you straight out not to do something. Instead he leads by example. But the message is clear and often very funny.
The images first started appearing online late last year, but have surged in popularity in January, spurred on by a dedicated Facebook page simply called "Be like Bill" - which now boasts more than 1.25 million likes.
BBC Trending asked the man behind the page, Eugeniu Croitoru, if he was anything like Bill.
"No, Bill is much better than me," says Croitoru, a Moldovan who lives in Milan and writes the cartoons with colleague Debabrata Nath. Croitoru, who has created a host of comedy Facebook pages, describes himself as an "internet entrepreneur". He's not making money out of the concept just yet, but hopes to in future. "The idea is very simple. 'Bill' can be anyone who is smart and has common sense and doesn't do annoying things. You'll also notice Bill can be someone who makes fun of himself and jokes about others too occasionally," he explains.
The meme's success is such that, quite independently of Croitoru, foreign variations are springing up seemingly daily. And in each one Bill has been renamed.
In Arabic he's "Bilal" or "Bashir".
Follow BBC Trending on Facebook
Join the conversation on this and other stories here.
And for Spanish speakers he's Jose.
While most incarnations of Bill are targeted squarely at online etiquette, some of them have taken on a political dimension.
One page imagined Bill as the Syrian President Bashar al-Assad, and reversed the joke to say "don't be like this".
And now a backlash against Bill is underway, with entire pages aimed at knocking him off his perch.
Bill is arrogant, the pages claim - a narcissist and a snob who is too quick to impose his strict rules on others.
What does Croitoru make of the parodies and the politicisation of the character? "I'm not annoyed. All I can say is that I made the idea popular with the intention of making something positive. Something that makes people laugh. It's not meant to be about politics."
The campaign to topple statues of colonialist Cecil Rhodes had success in South Africa, but will it be blocked in Britain? READ MORE