Why I tweeted a picture of myself in tears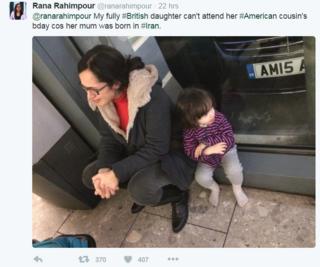 In the week that international sanctions were lifted on Iran - marking a new era in the country's relationship with the world - British-Iranian BBC journalist Rana Rahimpour tried to fly from London to the US. But things didn't quite go according to plan. And as Rana explained to BBC Trending she took to social media to express her frustration.
About a week ago, I decided to make a last-minute visit to the US with two of my cousins. My brother was planning a birthday party for his six-year old son and we thought it would be fun to turn up and surprise them.
All three of us have dual British and Iranian citizenship and with our British passports we are entitled to travel to the US visa free.
But we had heard the US was bringing in new restrictions for dual citizens of Iran, Syria, Iraq and Sudan, so we thought we should double-check we still didn't need a visa.
But we had no idea just how difficult that would be.
First, we contacted the US embassy in London. They said they didn't know.
Then we checked the UK government foreign travel advice website which said the new rules would be effective "soon".
And finally we consulted various US government websites, which said the changes would be announced by the department of Homeland Security as soon as the information became available.
And that was it.
Feeling worried and none the wiser, I spoke with some officials in Washington and, after making a few phone calls, they all said they were 99% sure the new rules weren't in operation yet.
With that reassurance we did what all British travellers to the US are required to do.
We filled in a form via a system called ESTA - the Electronic System for Travel Authorisation, which allows citizens of 38 countries, including most of Europe, to travel to the US without a visa for up to 90 days.
The ESTA form must be completed no later than 72 hours before your flight. They send you a number which you must provide in order to check in for your flight.
Four days later - on the morning we were due to fly - we still hadn't had a reply.
The US embassy in London referred me to ESTA's office in Washington, and suggested we go to the airport and call ESTA direct from there at the start of the working day in the US.
With three hours to go until take-off I finally got through to ESTA and was told our travel request has been denied because of our Iranian nationality.
Under the new rules, the official on the phone said, Iranians can no longer use ESTA and now have to apply for a visa.
What is interesting is that at time of writing, their website still says my request is pending.
Phoning my brother was difficult. At first he thought I was joking when I said I was at the airport and was unable to board the flight. When he finally believed, there was a long silence. He said he wished I hadn't told him at all.
The next hours were spent in shock and distress. We finally collected ourselves and decided to get a taxi. My two-year-old daughter was tired and she was being difficult. I was tired because I am 30 weeks pregnant and all of us were extremely upset. Sitting on the floor, waiting for the taxi, I could no longer hold my tears back. I didn't know that my cousin, who was photographing my daughter, had captured that moment.
When I got home, I thought other dual-nationals might find my story useful. My cousin was showing me the photos when I noticed I was crying in one. A moment that defined every emotion I was feeling. Fatigue, frustration, disappointment… I wrote three tweets and before I knew it, they were being shared and retweeted non-stop.
The responses were mainly sympathetic. However, there were some people in the US who said that having a British passport didn't make me a real Brit or being a Muslim means I should be banned from entering the US. And some Iranians said I was out of touch with their real problems.
The next morning, many news outlets covered the story and I lost count of the number of retweets.
The story clearly struck a chord with many Iranian, Syrian, Iraqi and Sudanese dual citizens. But it also highlighted another problem - the new rules also mean that any citizen of the 38 countries covered by the US Visa Waiver Program, who has visited one of these countries in the last five years, will now need a visa to enter the US. This applies to journalists, and even to aid workers. This can have serious consequences for Iran's newly recovering tourism industry and it can put off potential foreign businessmen.
Next story: Messi's 'biggest fan' probably not in Dohuk
An international search for a young boy in a Lionel Messi shirt made from a plastic bag is probably looking in the wrong place. READ MORE
You can follow BBC Trending on Twitter @BBCtrending, and find us on Facebook. All our stories are at bbc.com/trending.