President smiley face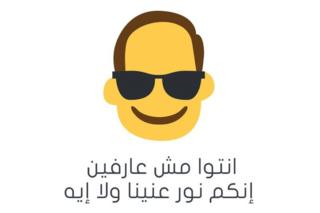 A cartoonist has gained rapid popularity on Egyptian social media after posting a series of light-hearted emojis capturing the country's President Abdel Fattah al-Sisi in different moods. But his fans fear his creations will get him into trouble with the authorities.
President Sisi's speeches have often been ridiculed online, especially because of the manner in which he speaks - very softly and emotionally. But this time he has received a more creative treatment by the cartoonist, Safie Eddeen.
The 24-year-old artist has used quotes by the Egyptian president, which have often triggered funny memes on social media, and attached them to variations of the president's face. These totally unofficial emojis only currently exist as images rather than anything you could add to a text or comment with.
One of the emojis shows a smiley President Sisi wearing shades alongside his famous phrase: "Do you not know that you are the light of my eyes or what?" Another laughing Sisi is coupled with the line "Egypt rejoices", which was used as part of the campaign promoting the opening of the New Suez Canal project.
---
Follow BBC Trending on Facebook
Join the conversation on this and other stories here.
---
A more recent outburst by the Egyptian president in which he angrily uttered "This is not right" in response to media criticism of his performance was also used by Safie on an agitated-looking Sisi face.
Since the images first appeared on Facebook they have received hundreds of comments praising the artist's sense of humour. They have been shared and liked thousands of times so far. One user, in her comment, asked Facebook to add the emojis to the ones officially available to its users. They were also a hit with a fan of the president who posted: "His emotions are very nice. al-Sisi is beautiful showing any emotion. May god grant him success and he should continue driving you crazy."
There can be a high price to pay for those who are perceived as mocking senior officials in Egypt. A law student was jailed in December 2015 for posting an image of President Sisi with Mickey Mouse ears.
So there is some nervousness about how the presidential emojis might be received by their subject. On his own Facebook page, Safie posted that he originally published his little yellow Sisis on 17 January via an open Facebook page called Unknown Artist, where anyone can post their work.
To his surprise the cartoons had disappeared from the page by the next day. "I woke up in the morning and the post was removed [by the page administrator]. I did not want to upset them, but I wanted to post my work in a smart way, which is part of my artistry, but it looks like I did something stupid and that upset them. Send them my apologies," Safie wrote on his Facebook page.
But, his own Facebook page also then disappeared without explanation prompting much speculation.
Some feared that even mentioning Safie's name online had made him an easy target for the security services who may have found his art offensive.
"Why have you mentioned his name. Now the man will be gone, you silly head", a comment read on a parody news agency account that posted the emojis. Another said :"What about those who share [his art]. Will they be busted or what?" One more concerned Facebook user said: "Are you trying to report him [to the police] or making him famous?"
Safie's Facebook page has now re-appeared with the emojis artwork intact. But the artist had also updated his cover photo to include the Arabic saying "You are dead and so are they", which roughly means don't make trouble.
Blog by Mohamed Gade , BBC Monitoring
Next story: Why I tweeted a picture of myself in tears
In the week that international sanctions were lifted on Iran - marking a new era in the country's relationship with the world - British-Iranian BBC journalist Rana Rahimpour tried to fly from London to the US. But things didn't quite go according to plan. And as Rana explained to BBC Trending she took to social media to express her frustration. READ MORE
You can follow BBC Trending on Twitter @BBCtrending, and find us on Facebook. All our stories are at bbc.com/trending.