Veterans say Palin gives PTSD sufferers a bad name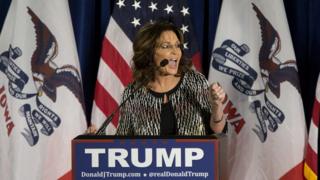 US veterans responded angrily to Sarah Palin relating her son's domestic violence arrest to post-traumatic stress disorder (PTSD).
The day after her endorsement of Republican presidential candidate Donald Trump, former Alaska governor Sarah Palin addressed news of her son Track's recent arrest.
"It's kind of the elephant in the room," she told the crowd at a Trump rally in Tulsa, Oklahoma.
Track, 26, has been charged with misdemeanour assault, interfering with a report of domestic violence, and possession of a weapon while intoxicated, all related to an incident with his girlfriend. He was arrested for allegedly punching her, and police reports say he had threatened to shoot himself.
Track served one year of deployment in Iraq with the US Army in 2008. This week, a lawyer for the family asked for privacy while "Track receives the help that he and many of our returning veterans need", according to the AP.
Palin brought the incident up obliquely in her remarks at the Wednesday rally.
"My son, like so many others, they come back a bit different. They come back hardened," she said. "I can relate to other families who feel ramifications of PTSD and some of the woundedness that our soldiers do return with and it makes me realise, more than ever, it is now or never for the sake of America's finest that we have that commander in chief who will respect them and honour them."
Seemingly off the back of that remark, PTSD began trending on social media. That did not sit well with a Twitter user named @CombatCavScout, who identifies himself on a related Wordpress account as an "active duty US Army officer".
"What she just did there propagates the stereotype we fight so hard of the 'crazy, dangerous war veteran,'" he wrote in a series of tweets. "In @SarahPalinUSA's desperate scramble to relieve her son of any personal responsibility for his crime, she gives us all bad names."
Other veterans also chimed in with their personal experiences with post-traumatic stress, saying that it did not manifest itself in violent behaviour towards others.
"I felt like I was sweating between my organs," wrote Army veteran Nate Bethea. "At no point did I lash out at anyone, because that would have made me feel worse. It would have confirmed my suspicions of being defective."
"What does #PTSD do to me?" tweeted another account. "When I get irritated, have a desire, however fleeting, to punch the irritating people. Only, you can't do that. It's socially [unacceptable], so I have to not only suppress that urge, but to be on guard for the kinds of things that trigger it. It wears me out."
Brandon Friedman, CEO of The McPherson Square Group and a combat veteran of Iraq and Afghanistan, retweeted many of the accounts by other soldiers. He says he thinks that Palin is spreading misleading information about the condition.
"PTSD consists of insomnia, nightmares, impatience, irritability, emotional distance, hyper-vigilance," he told BBC Trending. "That's how PTSD normally manifests itself. In rarer cases, those sort of symptoms can go a step further and it results in domestic violence, but that is not the majority of cases."
He says perpetuating stereotypes about veterans can cost them jobs or relationships, and that veterans are far more likely to harm themselves rather than someone else.
Several of the former soldiers discussing the incident online conceded that Track Palin could have post-traumatic stress, but said it was inappropriate for Sarah Palin to use the condition to make a political point.
"I have PTSD. It sucks and I don't wish it on anybody," wrote Bethea. "It doesn't excuse abusive behaviour. You have an obligation to seek help."
Blog by Jessica Lussenhop
Next story: Why I tweeted a picture of myself in tears
British-Iranian BBC journalist Rana Rahimpour tried to fly from London to the US. But things didn't quite go according to plan. READ MORE
You can follow BBC Trending on Twitter @BBCtrending, and find us on Facebook. All our stories are at bbc.com/trending.