China's social media search for stolen children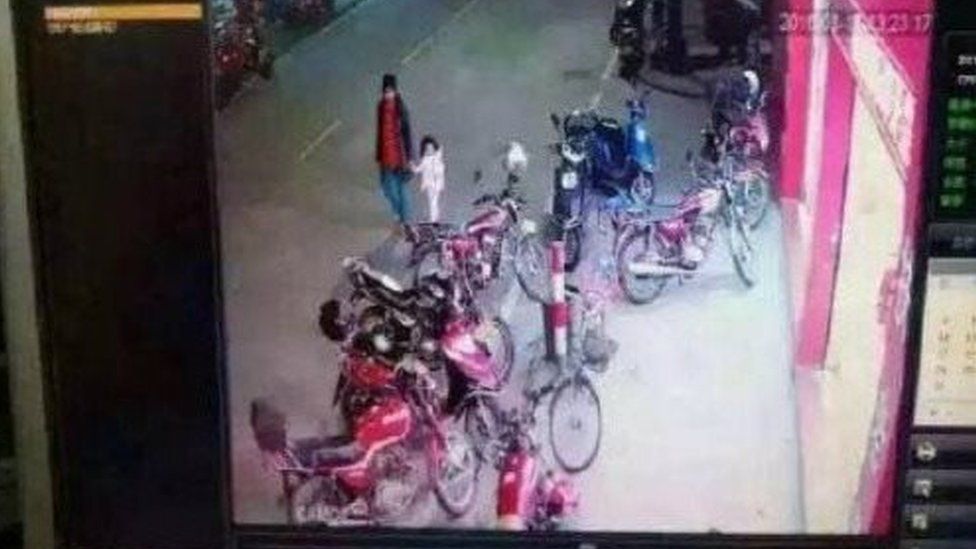 This image of a three-year-old girl being abducted has been widely shared across Chinese social media. The girl has now been found, but the search sheds light on the country's huge digital campaigns trying to track down tens of thousands of missing children and return them to their parents.
The screengrab from a security camera video went viral last week after it was released by police and published on Weibo, China's answer to Twitter. It shows a woman strolling hand in hand with a young girl - but the woman is not her mother.
The girl had been out walking with her grandfather in Guangdong, in southern China, when a woman approached the pair asking for something to eat. When the grandfather obliged, and went to buy her some food nearby, the woman took the child's hand and disappeared.
"I couldn't find [my granddaughter] and felt like I wanted to throw myself in a river," he later told a Chinese reporter.
When the photo of the abduction appeared the reaction was a mixture of alarm and fury - but few expressed surprise.
Follow BBC Trending on Facebook
Join the conversation on this and other stories here.
"My heart hurts. We must find her and bring her home," read one post. A hashtag which translates as "First ask for food, then kidnap granddaughter," was circulated widely on the network.
"Human traffickers should get the death penalty!" wrote another user, referring to the woman who tried to take her. It's a widely held opinion in the country, where the crime is currently punishable by around 10 years in prison.
Thankfully, the girl was found by the police, and has now been safely returned to her family, but the anger has not died down on social media.
The abduction of young children is incredibly common in the country. Obtaining accurate figures is difficult, but estimates range from 20,000, from the US State Department, to as much as ten times that figure in the Chinese media - a number disputed by the police.
Hundreds of thousands of people are turning to social media in an attempt to find their missing children, or find the parents of children they believe have been abducted.
The biggest campaign - Baby Come Home - has almost 350,000 followers on Weibo, and runs a website where people can upload photos in different categories.
The screen shown here displays images of missing children uploaded by families or loved ones. But there are other tabs showing children photographed by members of the public, who believe they have spotted an abducted child in the street. Others show pictures of the families searching for their children online.
So why are there so many missing children in the country?
There is a lucrative black market, trade in children who are mostly sold for adoption. A baby girl can reportedly sell for up to 50,000 rmb (£5,250, $8,000). Boys go for double the price. The preference for boys stems from their ability to continue the family, and provide financially for elderly parents.
Others are intentionally kidnapped from wealthy families to extract ransom payments, and in other cases they are used by professional begging gangs in an attempt to draw more sympathy from potential donors.
While some find their way back to their families, the vast majority are never found.
But digital networks like Baby Come Home could help, according to Kerry Allen, a China specialist at the BBC. "Social media could be a powerful tool for reconnecting parents and children," she says. The campaigns might be aided by the growing smartphone ownership in the country, which has rapidly grown to around 50% of the population, and is certain to expand even further. More smartphones mean more cameras, and an enhanced ability to share information about children who go missing, Allen says.
Blog by Sam Judah and Estelle Doyle
Facebook gives Spanish users the option to report pictures of bullfighting as inappropriate but then withdraws it days later. READ MORE