Singalong to Siri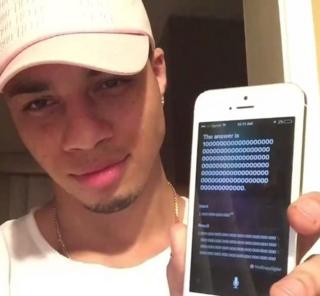 "Siri, what is one trillion to the tenth power?"
On the face of things it's not immediately obvious how this mindboggling mathematics question could inspire sweet music.
But it turns out the answer which the iPhone app Siri replies with is quite a decent beat. It's basically a one followed by a ridiculous number of zeros. And it's resulted in a series of musical collaborations - if a phone can be a musical collaborator - that have gone viral.
The US human beatboxer Marcus Perez posted his duet with Siri on his Facebook page and rapidly racked up more than 24 million views.
---
Follow BBC Trending on Facebook
Join the conversation on this and other stories here.
---
His video has been shared more than 385,000 times and encouraged others to uploading their own human beatbox versions like this and this.
One of the most creative versions was recorded in the United Arab Emirates and combines the Siri beat with beatboxing and Indian classical singing.
The beatboxer in the video is Carl Frenais, the frontman of a group called Carl & The Reda Mafia. The video was supposedly intended to be private and only shared amongst friends, but it was leaked and had more than 15 million views before it was taken down.
It has since been posted on the group's Facebook and picked up another five million views.
With numbers like that it's surely only a matter of time before we see Jay Z freestyling with Windows' Cortana and a particularly problematic equation.
Next story: Do white rappers benefit from 'white privilege'?
Macklemore has polarised opinion online by rapping about his own advantages. READ MORE
You can follow BBC Trending on Twitter @BBCtrending, and find us on Facebook. All our stories are at bbc.com/trending.