Covering up nude statues: Iranians say thanks but no thanks to Italy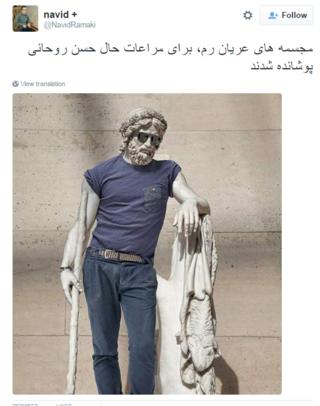 Iranians have responded with online sarcasm after Italy covered up statues to avoid their private bits being on display.
President Hassan Rouhani was on an official visit to Rome this week. It's been 10 years since an Iranian president last visited the country. During the trip, he visited the Capitoline Museum, and nude statues were covered as a sign of respect to the head of the Islamic Republic of Iran.
Wine was also absent from the official menu, as alcoholic drinks are prohibited by Islam.
Amused by the news, many Iranians decided to laugh it off using variations of a very well-known Farsi phrase, "Islam is in danger," in their online comments. Some sarcastically thanked Italians for saving Islam. "To prevent Islam from being in danger, the museum's statues have been put in a box," reads one Facebook post.
"Due to the large volume of trade with Iran, it wouldn't have been surprising if Italians broke the statues all together," another Twitter user said. During the visit, contracts worth around €17bn ($18.4bn; £12bn) were signed between Iranian and Italian companies.
One widely shared meme shows the already-covered-up statues blanketed by an image many Iranian internet users recognise, of an internet page that comes up when people try and access censored web pages in the country.
---
Follow BBC Trending on Facebook
Join the conversation on this and other stories here.
---
However, humour has not been the only response. Several Iranians have expressed anger at Italy's "strange move" and blamed the Iranian authorities for it. "The fact that during Rouhani's visit, the statues were covered, is not funny but painful", says one comment on Twitter. Another says :"I am not sure the covering up is an insult to our nation or to the Italians".
Meanwhile, a post on Facebook tried to remind people that Iran had nothing to do with the decision, which came from the Italian side. Some also criticised Italy for giving up its culture to cater to Iran's clerical establishment. This is a sentiment shared by many Italians online as well. In Italy, people used the hashtag "Statue Nude" to post photos of uncensored artworks.
"As an Italian and particularly Roman citizen, I'm so embarrassed. This is shameful," says one tweet. Another says: "Covering nude statues for a foreign visitor is equivalent to... cultural suicide".
Rouhani is currently in France, the second leg of his European visit.
Next story: Singalong to Siri
"Siri, what is one trillion to the tenth power?". READ MORE
You can follow BBC Trending on Twitter @BBCtrending, and find us on Facebook. All our stories are at bbc.com/trending.