'Armani Communist' divides China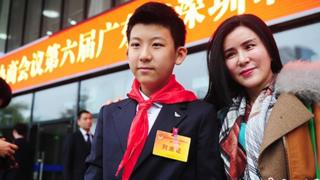 When Liu Bo attended a regional communist party event as the official ambassador of local students it wasn't his youthful demeanour which made the biggest impression.
Nor was it the remarks which the 14-year-old made to the Shenzhen People's Political Consultative Conference, calling for the greater use of non-exam based assessments in the Chinese education system.
What made people stare, and what rapidly become a major topic of conversation as photos of Liu spread across Chinese social media this week, was what he was wearing.
Around his neck was a red scarf of the type worn by Chairman Mao's Red Guards during the Cultural Revolution and now standard issue wear for the Communist Party Youth League. But Liu had paired that with what was taken to be an Armani suit, because of the lapel badge he was wearing with the distinctive logo of the Italian luxury brand.
In the eyes of many Chinese observers this was not so much a wardrobe malfunction as a clash of ideologies in a single outfit. Some on China's micro blogging platform Weibo dubbed Liu the "Armani Youngster" and attacked his choice of clothing.
A picture of a vintage propaganda poster with the Armani logo grafted onto a red Communist flag, was posted by one Weibo user with the sarcastic caption. "You can only call yourself a true Communist when you wear Giorgio Armani Junior." Many of the comments revealed the resentment that some Chinese feel for those connected to the party elite who have become rich as a result of free market reforms which have diluted the Marxist theory of the Maoist years. Others questioned Liu's credentials and implied he was too wealthy to speak at a meeting on state education. One person who posted a picture of Liu commented: "He can only represent the upper class, he should be representing the grassroots". Another added: "What problems/questions do people wearing designer suits have?"
Liu's appearance and the fact that he was the sole official youth representative at the conference sparked online speculation as to whether his family are rich. The boy's mother has since stated that the suit was a gift from the organiser of a concert that Liu attended last year. This prompted some Weibo users to share other pictures of Liu wearing clothes with that logo. The message seeming to be that this was a boy with quite a developed Armani habit. One user said Liu Bo liked to wear Armani "no matter what season it is".
However wealthy Liu's parents may or may not be, it is clear that this is a boy who is no stranger to attention. He is known as a child star who acts and sings. More than 20,000 people follow his Weibo page. He's famous for appearing on a local Shenzhen-based show called "Family Show". Some admirers have condoned Liu Bo's choice of suit and complimented him on his appearance.
"Please make this Armani wearing youth's clothing be the whole countries' primary and secondary school uniform" said one Weibo post which received more than 10,000 likes.
During the years of the Cultural Revolution aspirations for personal wealth were seen as an evil to be defeated. But it is a sign of the evolving nature of Chinese society that a desire for luxury brands is not seen as incompatible with patriotic feeling. The very rich are widely admired if they have created their fortunes honestly. But rich kids, often the offspring of party elite, are known as 'Fuerdai' or 'second-generation rich' and have come under criticism for their extravagant lifestyles.
Luxury brands are seen as desirable by those who wish to be perceived as wealthy. This love of designer goods is a growing trend especially when the Chinese visit other countries, like Britain. Designer shopping outlet Bicester Village has seen a substantial rise in Chinese tourists in the last decade. It is the second most popular attraction for tourists from China after Buckingham Palace.
Blog by Anisa Subedar
Next story: PM left red nosed by censorship protest
When Malaysian police warned activist and graphic designer Fahmi Reza that his Twitter account was under surveillance after he posted an image of the prime minister, Najib Razak, as a clown, they probably hoped such behaviour would stop. READ MORE.