Mayor who blamed victim's 'vulgar' behaviour for her death resigns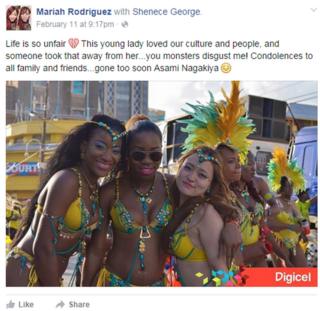 Carnival in Trinidad and Tobago is a major celebration, but this year it was marred by a woman's murder.
The victim was a 30 year old Japanese tourist called Asami Nagakiya. She had played steel pans in a festival held last week in the country's capital city, the Port of Spain. Nagakiya was killed by an unknown assailant.
But it was the reaction from Port of Spain's mayor Raymond Tim Kee that got people talking.
"You know before Carnival I did make a comment about vulgarity and lewdness," he said.
"Women have a responsibility to ensure they are not abused during the Carnival season. It's a matter of, if she was still in her costume - I think that's what I heard - let your imagination roll".
The comments sparked a major backlash on social media in the Caribbean nation. Over ten thousand people have now signed an online petition calling on him to resign. The primary charge is that he is guilty of victim blaming: placing responsibility for the attack on Nagakiya herself.
Many were outraged by the mayor's comments. One sarcastic Facebook post read: "Maybe the Mayor should sanction the removal of all the 'provocatively' dressed women from the streets and privacy of their homes, so that all the violence against women will come to an end once and for all."
At the same time, some actually agreed with Tim Kee's remark. Another Facebook user wrote: "We are a vulgar society. Half of the naked women [at the carnival] would not want their children to see them like that... When did nakedness became our culture?"
Some simply paid tribute to Nagakiya, sharing pictures of her at the carnival.
---
Follow BBC Trending on Facebook
Join the conversation on this and other stories here.
---
It seems the surge of online anger has had an effect. On Tuesday, rumours began to spread that the mayor had resigned, but these were rebuffed by other users. Memes began to spread about the confusion.
Local journalists have now confirmed that Tim Kee has stepped down from his post.
Despite initial suggestions that a rape preceded the murder, authorities have now dismissed that possibility. A man and woman were questioned on Friday in connection with the death, according to the Trinidad and Tobago Guardian. The police have not named the pair.
BBC Trending looked at the online reaction to the story in Japan, and found news of the incident is being shared - but few people are commenting on Tim Kee's remarks.
Blog by Emma Wilson
Next Story: The satirical website that 'has a minority for every occasion'
A website making fun of the use of 'token minorities' in the tech and media worlds is proving a hit with social media users. READ MORE
You can follow BBC Trending on Twitter @BBCtrending, and find us on Facebook. All our stories are at bbc.com/trending.