China shares its loneliness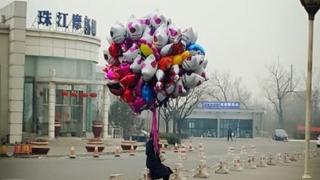 At one time in your life you will probably have felt lonely, but what exactly is loneliness and what does it look like?
A popular hashtag in China #WhatIsYourLoneliestPhoto is raising that very question on the popular social media platform Weibo. Thousands of people have responded by posting images which they think capture loneliness in everyday life.
One photo which is proving popular shows an elderly man crossing a road on his own, while students walk in the opposite direction barely noticing him.
Many people are leaving comments saying the idea that the youngsters in this photo are in a rush and too busy chatting to see the older gentleman makes them want to cry.
Although depending on your perspective it could be argued the man is having a great day and isn't bothered by the students at all.
---
Follow BBC Trending on Facebook
Join the conversation on this and other stories here.
---
The photo of a man standing on a bridge in the dark strikes a chord as for many it captures isolation perfectly.
Many Weibo users found the photo above quite upsetting. It looks at the idea of loss, separation and being lonely when you have to say goodbye to something or someone you love, as the caption implies the woman pictured is looking for a new owner for her beloved kitten.
Although it is unknown what exactly is happening, or has happened, in many of these photos, just by posting them alongside the hashtag #WhatIsYourLoneliestPhoto has reignited the debate about loneliness in China, and especially as experienced by older people.
Blog by Lorna Hankin & Kerry Allen, BBC Monitoring
Next Story: Australian 'blackface' makeup tutorial goes viral
A satirical video showing "whitefellas" how to "do blackface properly" goes viral following a series of blackface incidents in Australia. READ MORE
You can follow BBC Trending on Twitter @BBCtrending, and find us on Facebook. All our stories are at bbc.com/trending.